Home / Women / Underwear / #5243 Thongs (lace-trimmed set)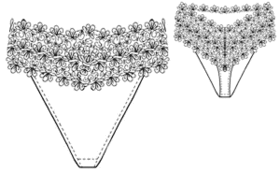 Difficulty: *
Fabric requirements: 100% silk or polyester silk fabric.
You will need: silk fabric, wide elastic lace scalloped at both sides, elastic tape 1 cm (3/8") wide, cotton knit fabric.
Attention! Fabric consumption varies depending on the size of garment. First of all, print out paper patterns and lay them out at the width of fabric/ knit you plan to use, to see how much fabric you will need.
When sewing the garment, pay attention to notches- they must coincide.
Cutting:
Silk fabric:
1. One-piece cut Front & Back (thong)- 1 piece with fold
Cotton knit fabric:
2. Front Lining - 1 piece with fold
Elastic lace:
3. Lace Waistband - 1 piece with fold
Instructions:
1. Place Front Lining onto Front (wrong sides together), turn under raw edge of Front Lining at bottom, and hand-sew together at bottom (crotch).
2. Sew elastic tape to leg openings, stretching the elastic slightly.
3. Sew Lace Waistband at center back, press allowances open, and topstitch at both sides of the seam.
4.Place Lace Waistband onto thongs and stitch together with zig-zag stitching.