How to Print Patterns
1. Introduction
It is great if you have large format printer or plotter but what to do if you have just a regular Letter or A4 size printer? You might think that printing a large pattern on a small format printer could be a challenge for you. With our website using tiling feature, that's easy. It might take you up to 30-40 minutes to assemble pattern tiles for the first time. Next time you'll be able to assemble your patterns in just 10-15 minutes, compared to 4-6 days of snail mail delivery. Let us guide you through the whole printing process.
Please note: to print PDF patterns, you need to have Adobe Acrobat (not just acrobat reader) it supports Tiled Printing otherwise you need to convert PDFs to a DWF viewer supported format, search for converters:
Download Autodesk Design Review
or use Free PDF files tiling for easy poster printing without any additional software
2. Printing sewing patterns with the Autodesk DWF Viewer using tile feature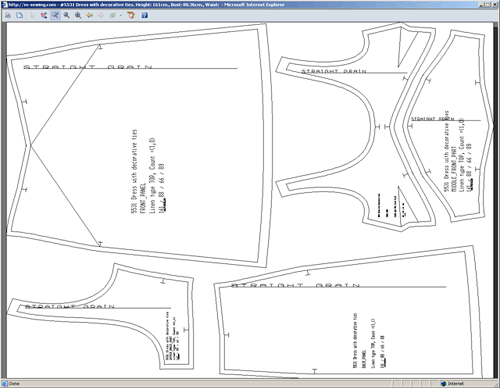 After you chose the DWF or PDF viewer by clicking an icon, you'll see the preview window showing your pattern pieces. In this window you can use magnifying feature to view details of the patterns.
Click the printer icon and a new window will appear to allow you to adjust the printer settings.
Usually you will need to set up just a few options, but if you want to get maximum functionality from the Autodesk DWF Viewer, please refer to its help file by clicking the "help" button.
Follow the detailed instructions below to print your patterns.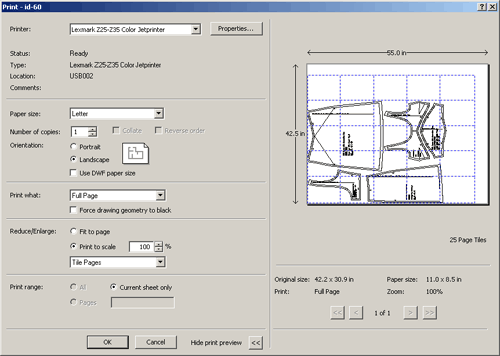 Select Printer.
Choose Paper size. Our patterns are prepared for A0 size printer/plotter - 80cm (32") width. You need to use tiling feature for small size printers and set maximum paper size for your printer. (Letter or Legal (US); A4-A3(International)
Set Print to Scale - 100% and Tile Pages
Click Show print preview
Take a look at the number of tiled pages you get based on page size entered. Change the page layout to Landscape to see if the number of tiled pages has increased. If not, change the layout back to Portrait
Check all your settings one more time to make sure that everything is OK. Click Print to print your patterns.
3. Assembling the tiles
3.1. What you need

- letter/legal (US) or A3-A4 (International) size paper

- glue stick (do not use liquid glue as it will make the paper pucker)

- scissors

- ruler

- pencil

3.2. Laying out the pages(tiles) in correct order

The order of pages coming out of the printer is shown at the right picture (this assumes your print order places the first page on the bottom of the stack).

You need to lay out the pages(tiles) on an even surface (carpet, table) as it shown on the left half of the drawing.

To do the layout, take the page on top of the pile in printer tray (the last page), which is going to be uppermost right page of your layout. Place each next sheet to the left until you get to the end of the row (refer to the picture on your monitor to determine which page is last in this row). The next row starts from the right again. This next row should be placed under the previous row.

3.3. Assembly

The assembling process is shown on the picture.

- Pages must be matched to each other at cross ticks in corners.

- You will need to cut off left and top margins of each page (dashed line on the picture): draw lines of left and top margins by connecting cross ticks in corners. Now cut off thin strips along these lines. Make sure you don't cut the paper inside the border. It's better to cut 1-2 mm outside the border.

- Keep right and bottom margins of each page uncut.

- Turn the sheet you've just trimmed, and spread glue along the cut edges at about 1.5cm(0.5) (gray stripes on the picture). Place the sheet glued edge down onto another sheet, matching cross ticks.

- Glue the sheets in the order that is shown on the picture from uppermost left page to bottom.

3.4. Cutting out paper pieces

After the whole layout has been assembled (glued), you can proceed to cutting out individual pieces (sleeve, belt, pocket etc.). Cut each pattern piece on its outer line.

Your paper patterns are now ready to lay out on the fabric so you can cut out and sew your garment!