Home / Women / Skirts / #5271 Skirt with figured one-piece half belt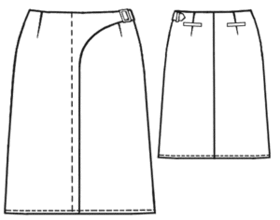 Difficulty: **
Recommended fabrics: light natural and combined material.
You will need: crepe; fusible interfacing; zipper; decorative buckle; eyelet details.
Attention! Fabric consumption varies depending on the size of garment. First of all, print out paper patterns and lay them out at the width of fabric/ knit you plan to use, to see how much fabric you will need.
When sewing the garment, pay attention to notches- they must coincide.
Cutting:
Fabric:
1. Hessian - 2 folded details
2. Pocket facing – 2 details
3. Side half belt – 1 detail
4. Belt loop - 1 detail
5. Back panel - 2 details
6. Front right panel - 1 detail
7. Front left panel - 1 detail
8. Back facing – 1 folded detail
9. Front right facing - 1 detail
4. Front left facing - 1 detail
Fusible interfacing: reinforce back facing, front facings and pocket facings with fusible interfacing.
Instructions:
1. Reinforce back facing, front facings and pocket facings with fusible interfacing (press thermal interfacing to left side with hot iron).
2. Sew darts into front and back panels and press them towards center.
3. Work slip pockets into back panels: press lining stripe of 4 cm (1-5/8") width above pocket marking from fabric back part work side. Press pocket facings along centre right side out. Pin the facing below pocket entrance line, with its edge corresponding to marked line; pin the Hessian above, with its edge corresponding to marking. Sew on 1 cm from line. Cut the panel alongside stitch toward stitch ends, by diagonal. Be careful with facings and Hessian! Press seam allowances into skirt. Fold the facings into wrong side so that appear precious framework; tack it. Topstitch accurately facing joining seam from right side. Fold small triangles at cot ends to wrong side and topstitch on facing preciously from one stitch ends to another one ends. From wrong side, sew free end of pocket Hessian to joining seam allowance. Press Hessian downwards, adjust and sew.
4. Sew back center seam down to slit mark. Press allowance apart. Topstitch slit edges. Sew side edges. Press allowance apart.
5. Sew facings together. Work waistline and figured half belt. Fold facings into wrong side, work and press.
6. Sew front center seam from the zipper mark downwards hem. Cut allowance near the mark: press lower parts into right panel and upper part into left one.
7. Sew zipper left band under left edge of zipper allowance. Coincide front center lines and topstitch with one stitch zipper right band and front panel joining seam allowance.
8. Turn over hem allowance along hemline, press and topstitch.
9. Work the half-belt and belt loop, fold them into right side, work and press. Insert the buckle into half belt and sew to skirt. Sew belt loop. Make eyelets into the half belt.