Home / Women / Skirts / #5351 Skirt with a flounce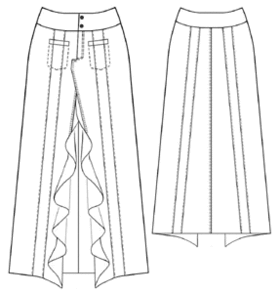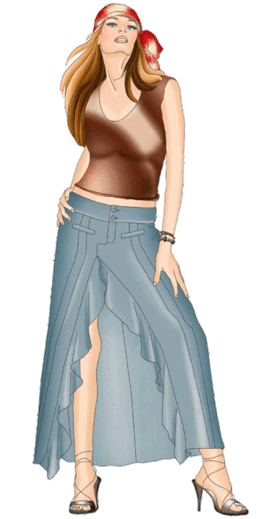 Difficulty: ***
Fabric: denim.
Attention! Fabric consumption varies depending on the size of garment. First of all, print out paper patterns and lay them out at the width of fabric/ knit you plan to use, to see how much fabric you will need.
When sewing the garment, pay attention to notches- they must coincide.
Cutting :
Fabric:
1. Pocket pocket bag - 2 details
2. Pocket facing - 2 details
3. Back yoke - 1 detail
4. Back panel - 2 details
5. Front left panel - 1 detail
6. Front right panel - 1 detail
7. Front left yoke - 1 detail
8. Front right yoke - 1 detail
9. Flounce - 2 details
Fusing: back yoke, front left yoke, front right yoke.
Instructions:
1. Apply the fusing to wrong side of back yoke, front right and front left yokes.
2. Mark and press pleats into front left and right panels. Stitch pleats; do the same for back panel.
3. Sew back panel middle seam, then serge it. Press the seam into right part and topstitch on 0.2 cm (1/16") from the seam.
4. Sew front right yoke to front right panel. Sew front left yoke to front left panel. Press seams toward yokes. Serge front right and front left panels' edges.
5. Mark the pocket place on front right and front left panels with three lines: warp line that points the direction of the pocket and is the pocket joining line; and two cross lines defining the pocket size. Fold the pocket facing along the center with its wrong side in, and press. Measure the facing width along its length and mark the line to stitch the facing to garment detail. Put the facing with its right side on one of pocket lining's part wrong side coinciding edges and putting lining edges on off-set welt ends at the same size.
Tack and sew the facing with one art of lining to garment detail according to marking. Attention! The facing must be between garment detail and pocket lining. Put the rest part of lining on garment detail right sides together with facing joining seam. Remove tacking. Cut the pocket entrance, make diagonal cuts on 1-1.5 cm (5*8") from the pocket. Turn the lining right side out through the notch. Bend the facing to where it would be when ready. Serge and press the facing joining seam. Fix pocket ends with double stitch on the wrong side, and sew pocket lining. Serge the pocket lining and topstitch it on garment detail. Remove tacking.
6. Serge flounce lower edge and press it toward the flounce. Topstitch flounce allowances at 0.5 cm (3/16") from flounce edge.
7. Sew the flounce to front right and front left panels. Serge the joining seam, then press it.
8. Press front panel middle seam, then topstitch it. Sew the zipper in and made decorative stitch along right part.
9. Sew front panel and back panel side edges. Serge garment side seams and press them toward back panel.
10. Sew side seams of strengthened yokes and press seams apart. Serge yokes' lower edge. Fold he yokes right sides together and overstitch garment upper edge. Topstitch the overstitching seam on strengthened facings at 0.2 cm (1/16") from overstitching seam, then press. Topstitch strengthened yokes on yokes joining seam. Fold middle edges of strengthened facings under and sew by hand.
11. Serge the hem, press it and topstitch on the garment on 0.5 cm (3/16") from the bend.
12. Make a buttonhole into the right front panel; sew the button on the left front one.