Home / Women / Skirts / #5041 Long skirt with front slit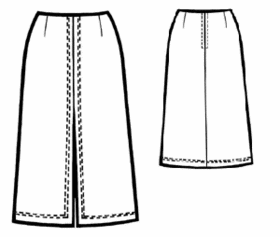 Difficulty: *
Fabric choice: soft, well-draping fabrics or knits, such as rayon, crepe, knit velvet. Please note that knit fabric should be pretty heavy and not too stretchy for this model.
You will need: crepe fabric or knit; zipper.
Attention! Fabric consumption varies depending on the size of garment. First of all, print out paper patterns and lay them out at the width of fabric/ knit you plan to use, to see how much fabric you will need.
When sewing the garment, pay attention to notches- they must coincide.
Cutting:
Fabric:
1. Front Panel -2 pieces
2. Back Panel - 2 pieces
3. Facing of Front - 1 piece with fold
4. Facing of Back - 2 pieces
Fusible interfacing: all Facings.
Instruction:
1. Sew darts, press darts towards center front or center back.
2. Sew center front seam, leaving open at the bottom for the slit. Press seam allowances open, press allowances of the slit to the wrong side of fabric.
3. Sew center back seam, leaving open at top for the zipper.
4. Sew side seams.
5. Sew zipper into the center back seam so that the zipper coil is not seen (or use a special zipper for skirts, with coil inside).
6. Press hem allowance to the wrong side. At the bottom corners of slit, make "envelope-type" hemming. This means, fold each corner face-to-face diagonally and sew across at 90 degree angle with the fold. Cut off extra fabric, turn out and press the "envelope-type" corner.

Double-topstitch the skirt at both Front Panels along center front seam, front slit, and bottom hem at 3 cm (1-1/8").
7. Sew side seams of Front and Back Facings. Place Facings onto skirt face-to-face at waistline and attach.
Cut off seam allowances close to the seam, press allowances onto the Facings, topstitch at Facings very close to the seam. Turn Facings inside the garment and hand-sew them to darts and zipper tape.