Home / Women / Skirts / #5159 Long pleated skirt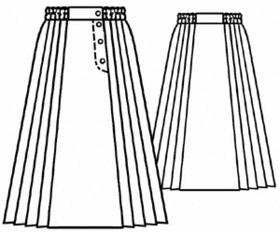 Difficulty: **
Recommended fabrics: suit material, natural or combined.
You will need: soft wool; elastic band of 3,5 cm (1-3/8") width; fusible interfacing; 4 buttons.
Attention! Fabric consumption varies depending on the size of garment. First of all, print out paper patterns and lay them out at the width of fabric/ knit you plan to use, to see how much fabric you will need.
When sewing the garment, pay attention to notches- they must coincide.
Cutting:
Fabric:
1. Central part of front panel - 1 folded detail
2. Central part of back panel - 1 folded detail
3. Side part of front and back panels - 2 details of 85 cm length each
side part widths depend on waist girth:
waist girth of 62-67 cm (24-3/8" - 26-3/8"): 84 cm (33-1/2") width,
waist girth of 68-75 cm (26-3/8" - 29-1/2"): 96 cm (37-3/4") width,
waist girth of 76-83 cm (29-7/8" - 32-5/8"): 108 cm (43") width,
waist girth of 84-95 cm (33-1/2" - 37-3/8"): 120 cm (1.31yd) width,
waist girth of 96-107 cm (37-3/4" - 1.71 yd): 132 cm (1.44 yd) width,
waist girth of 108–119 cm (43" - 1.3 yd): 144 cm (1.57 yd) width.
5. Waistband - 1 detail waistband length: skirt upper edge length plus 4 cm (1-5/8") for closure, waistband width is 8 cm (3-1/8") in cutting (4 cm in ready garment).
Fusible interfacing: waistband (excluding drawcords). Drawcord length is from side edge of front panel middle part to side edge of back panel middle part.
Attention:
Press pleats on side parts of front and back panels. The most simple is to have pleats made by professional: triple pleats, visual pleat width is 4 cm. It means that to make a pleat of 4 cm width you need 12 cm if material, i.e. 4 cm is pleat width (visual width) and 8 cm is pleat depth. For first pleas from right edge of left panel you need a half of pleat depth (4 cm) plus seam allowance. For last pleat from left edge, mark visual pleat part of 4 cm width. After visual part, you will need for pleat at middle part of panel half depth of pleat plus seam allowance. Face panel hems before you have them pleated.
Instructions:
Tuck the hem of front and back panels.
Topstitch pleats on 19.5 cm (7-5/8") from upper edge on the wrong side of pleated panels. Press the fold of front panel pleat to wrong side.
Topstitch the left side of front panel middle part along the marking. Work longitudinal buttonholes under the marking.
Pin middle parts of front and back panels with pleated panels so that to make bend of pleat of front panel middle part coincide to marking of pleated panel visible part.
Sew the inner bend of pleats. Leave the vent open on the front panel middle part left side. Topstitch the outer bend of pleat on 19.5 cm from the upper edge.
Press allowance of vent of side panel to wrong side and topstitch on 0.5 cm (3/16") width. Topstitch pleat depth at vent lower end, from pleat bend, 5 cm (2") along seam line.
Topstitch on right side one longitudinal waistband side to skirt upper edge and closure allowance to left side panel pleat depth. Fold waistband along center and sew short ends. Press waistband to wrong side, fold lower edge and pin to join seam. For drawcord, topstitch the waistband on both sides in pleat area. Cut elastic band into 2 pieces, insert these pieces into drawcord and topstitch to waistband at pleat and closure allowance level. Topstitch opened waistband lower bend in joining seam. Topstitch waistband on the center of each drawcord between cross stitches stretching elastic band. Work 1 hole on waistband.