Home / Women / Skirts / #5101 Long fringe skirt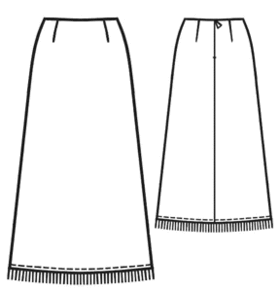 Difficulty: *
Recommended fabrics: skirt material, well-forming and suitable to make a fringe from.
You will need: linen; lining; zipper.
Attention! Fabric consumption varies depending on the size of garment. First of all, print out paper patterns and lay them out at the width of fabric/ knit you plan to use, to see how much fabric you will need.
When sewing the garment, pay attention to notches- they must coincide.
Cutting:
Fabric:
1. Front panel - 1 folded detail
2. Back panel – 2 details
3. Hem fringe stripe - 1 detail
Lining:
1. Front panel - 1 folded detail
2. Back panel – 2 details
Instructions:
1. Sew back centre seam from zipper mark. Press allowances apart. Press allowances along the slit edges to wrong side.
2. Pin zipper so that its teeth begin at upper edge of skirt. Topstitch zipper so that zipper teeth are covered.
3. Sew darts into front and back panels and press toward centre.
4. Sew side seams together.
5. Cut out the allowance on hem and face the hem with overlock or zigzag stitches. Oversew one alongside edge and mark with tack stitches along crossing fibers the line of coinciding the lower part of skirt on the distance of 1.5 cm (5/8") from the alongside edge. Pin the stripe under lower edge (hem) coinciding it with line of coincidence marked with tacking stitches. Topstitch hem on the stripe sewing with overlock or zigzag stitches along upper edge of hem. Make the fringe on stripe.
6. Sew darts and seams on lining panels. Put the lining to skirt right sides inside and tack it to the upper edge of skirt. Tuck the lining up and topstitch on seam allowance closely to seam. Tuck lining to wrong side, fold it and sew it to zipper band. Narrowly sew lining hem.