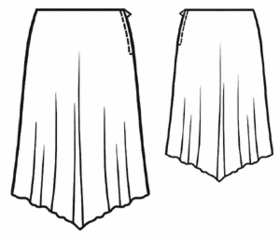 Difficulty: *
Recommended fabrics: light draping material.
You will need: crepe georgette; zipper.
Attention! Fabric consumption varies depending on the size of garment. First of all, print out paper patterns and lay them out at the width of fabric/ knit you plan to use, to see how much fabric you will need.
When sewing the garment, pay attention to notches- they must coincide.
Cutting:
Fabric:
1. Front panel - 1 folded detail
2. Back panel - 1 folded detail
3. Front facing detail - 1 folded detail
4. Back facing detail - 1 folded detail
Instructions:
1. Sew left side seam under the crotch mark for zipper. Press seam allowance apart. Press allowances along the split edges to left side.
2. Topstitch zipper so that to hide teeth.
3. Sew right side seam, also for facing details.
4. Fold facing and skirt waistline along marked seam line. Cut the seam allowance to 0,5 cm (3/16") width. Fold the facing upwards and topstitch on seam allowance closely along the seam. Fold facing ends. Turn facing and press edges. Turn back center seam allowance over zipper tape and attach. Topstitch finished waist edge.
5. Work the bottom edge with close narrow zigzag: press hem allowance to the left side along the edge, work close narrow zigzag along the bend on the right side slightly stretching the bend. Then you can carefully cut extra allowance closely to zigzag.