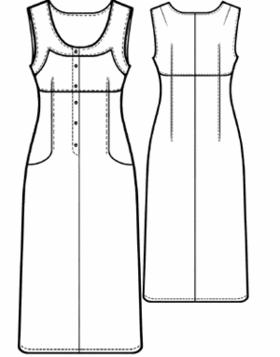 Difficulty: **
Attention! Fabric consumption varies depending on the size of garment. First of all, print out paper patterns and lay them out at the width of fabric/ knit you plan to use, to see how much fabric you will need.
When sewing the garment, pay attention to notches- they must coincide.
Recommended fabric: jean fabrics with elastic fibers.
You will need: jean fabric; fusible interfacing; 6 buttons.
Cutting:
Shell:
1. Front Yoke - 2 pieces
2. Front Insert - 2 pieces
3. Bottom Center Front part - 2 pieces
4. Bottom Side Front Part – 2 pieces
5. Top Back – 2 pieces
6. Bottom Back – 2 pieces
7. Pocket Bag – 2 pieces
8. Closure Facing – 1 piece
9. Placket – 1 piece
Fusible interfacing: Placket, Closure Facing.
Instructions:
1. Sew dart at each Front Insert, press towards center front. Sew Front Yoke to Front Insert, clipping in corner of Yoke. Serge seam allowances, press upward. Topstitch the seam at 0.5 cm (3/16").
2. Mark placement of darts at Top Back and Bottom Back pieces. Sew darts; press them towards center back.
3. Sew Top Back to the Bottom Back. Serge allowances and press upward. Topstitch at 0.5 cm (3/16") along the seam of dart.
4. Place Pocket Bag at pocket entrance, matching with the notches; stitch at pocket entrance edge. Clip allowances, turn lining to wrong side. Under-stitch pocket entrance. Place Bottom Side Front Part underneath Pocket Bag, and sew to the Bottom Center Front Part, sewing Pocket Bags with the same seam, at one go. Be careful: seam of attaching Bottom Side Front and seam of Pocket Bags should go exactly as per pattern, without any shifts or else you will get puckering of Front.
5. Sew Top Front to the Bottom Front. Serge seam allowances; press upward. Topstitch along Front dart, ending topstitching at the pocket entrance.
6. Sew and serge center back seam. Press allowances to the side.
7. Topstitch waist seam (of attaching Tops to Bottoms) at Top Fronts/Back at 0.5 cm (3/16").
8. Serge neckline allowances.
9. Serge inner (not front) edge of Closure Facing. Place Closure Facing on top of right Front, align at center front edges and stitch together at center front and neckline. Serge center front edge of each Bottom Center Front part, from the notch down. Sew center front seam from the notch down to the bottom of dress. Turn Closure Facing to the face side.
10. Press inner edge of Placket. Sew one long edge of Placket to the left Front. Press seam allowance towards Placket. Fold half-width of Placket to the wrong side and stitch at top edge of Placket. Turn the Placket out, press. Stitch in the ditch of Closure Facing seam. Place the Closure Facing onto Placket and make a rounded topstitching at bottom of Placket so that it matches the stitching at the right Front (turn the Placket out of the way). Put a vertical bartack to tack right Front to Closure Facing to Placket.
11. Sew and serge side and shoulder seams of dress. Press allowances towards Back.
12. Turn allowance of neckline to the wrong side, topstitch.
13. Serge bottom of dress. Turn under hem allowance, topstitch.
14. Mark and make buttonholes at the right Front. Sew buttons at the left Front accordingly.