Home / Women / Coats / #5314 Faux sheepskin coat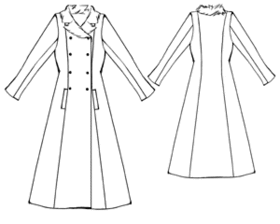 Difficulty: ***
Recommended fabrics: double-side artificial sheepskin.
You will need: 8 buttons.
Attention! Fabric consumption varies depending on the size of garment. First of all, print out paper patterns and lay them out at the width of fabric/ knit you plan to use, to see how much fabric you will need.
When sewing the garment, pay attention to notches- they must coincide.
Cutting:
Fabric:
1. Center back part – 1 detail
2. Side back part – 2 details
3. Side part - 2 details
4. Side front part – 2 details
5. Center front part – 2 details
6. Collar – 1 detail
7. Slip pocket detail – 2 details
8. Upper sleeve – 2 details
9. Lower sleeve – 2 details
Instructions:
1. Sew front princess seams with pocket entrance unsewn.
2. Sew the bag to slip pocket detail. Fold right side of center front part with the bag according the notches, fold side front part and the bag right sides together, then sew. Fold the seam and topstitch on the bag. Sew and oversew the bag. Topstitch slip pocket detail on both sides on the side front part.
3. Mark button holes into right front part. Make a stitch along four sides of every hole near the hole marks. Cut the holes.
4. Sew front and back parts.
5. Sew shoulder and side seams.
6. Put collar joining seam allowance under the neckline, with fur side to leather side, and topstitch the neckline closely along the edge.
7. Sew sleeve elbow seam. Sew sleeve front seam. Sew sleeves into armholes according to notches.
8. Sew buttons to left front part.