Home / Women / Blouses / #5300 Raglan blouse with flare sleeves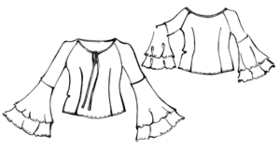 Difficulty: **
Recommended fabrics: chiffon (natural silk, polyester).
Attention! Fabric consumption varies depending on the size of garment. First of all, print out paper patterns and lay them out at the width of fabric/ knit you plan to use, to see how much fabric you will need.
When sewing the garment, pay attention to notches- they must coincide.
Cutting:
Fabric:
1. Front part - 1 detail
2. Back part - 1 detail
3. Sleeve - 2 details
4. Wide ruffle - 2 details
5. Narrow ruffle – 2 details
Cut pipings of 0.5 cm (3/16") width by diagonal.
Instructions:
1. Sew vertical darts into front and back parts.
2. Sew wide and narrow ruffles to sleeve hem.
3. Sew sleeve seams.
4. Sew side seams.
5. Sew sleeves into arm holes.
6. Fold piping for figure neckline along the center and press. Sew folded pipings to edges of figure neckline; piping bent should be on the garment on 0.75 cm (1/4") width. Cut seam allowances to 0.5 cm (3/16") width. Turn pipings into wrong side, then topstitch the blouse along figure neckline.
7. Fold under and topstitch front/back neckline edges, with drawstring loop unstitched.
8. Prepare the string and pull it into neckline loop.
9. Press sleeves and blouse hems to the wring side and topstitch.