Home / Women / Blouses / #5426 Blouse with flounce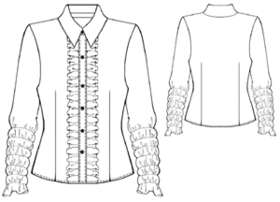 Difficulty: **
You will need: sheer linen; fusing; 5 buttons; bride.
Attention! Fabric consumption varies depending on the size of garment. First of all, print out paper patterns and lay them out at the width of fabric/ knit you plan to use, to see how much fabric you will need.
When sewing the garment, pay attention to notches- they must coincide.
Cutting:
Fabric:
1. Back part – 1 piece
2. Front part – 2 pieces
3. Flounce – 2 pieces
4. Collar – 2 pieces
5. Stand-up collar – 2 pieces
6. Sleeve – 2 pieces
7. Placket – 2 pieces
Fusing: placket, outer collar, stand-up collar.
Instructions:
1. Apply the fusing to wrong side of placket, outer collar, stand-up collar.
2. Stitch front/back waist darts. Press front waist darts towards front center, press back darts towards back center.
3. Press the placket along the center right side out. Press placket's outer edge at 0.7 cm (1/4"). Stitch the placket with its unpressed edge to front part's wrong side.
4. Serge flounce outer/short lower edges with a roll stitch. Make a stitch with loose loops along flounce's inner edge at 0.5 cm (3/16") from flounce edge. Pull detail's edge to necessary length apportioning pleats equally.
5. Stitch the flounce to placket's pressed edge so that flounce short lower edge was above the hem. Topstitch the placket on the blouse at 0.2 cm (1/16") from placket's pressed edge. Remove tacking. Topstitch flounce's short upper edge on font neckline edge at 0.5 cm (3/16") from edge.
6. Stitch shoulder/side edges, then serge seams. Press shoulder/side seams backwards.
7. Overstitch inner collar with outer one. Turn the collar right side out.
8. Stitch stand-ups together inserting the collar.
9. Stitch inner stand-up with collar into the neckline catching flounce's short upper edge, fold outer stand-up's open edge under and topstitch along the seam joining inner stand-up. Topstitch the collar.
10. Topstitch the bride on the sleeve according to marks with zig zag stitch. Stitch sleeve seams.
11. Stitch sleeve.
12. Make buttonholes into right edging, sew buttons in left one.
13. Serge garment/sleeve hems, fold them under and topstitch them.