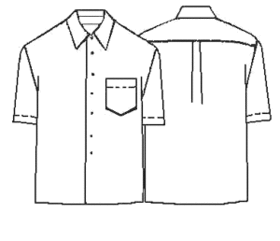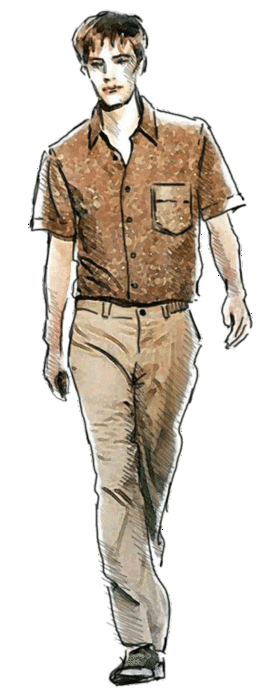 Difficulty: **
Recommended fabrics: cotton/polyester blends
Attention! Fabric consumption varies depending on the size of garment. First of all, print out paper patterns and lay them out at the width of fabric/ knit you plan to use, to see how much fabric you will need.
When sewing the garment, pay attention to notches- they must coincide.
You will need: cotton/polyester blend fabric; 80 cm (32") of fusible interfacing 90 cm (35") wide; 6 buttons 1 cm in diameter; 8 buttons 0.8 cm (1/4") in diameter.
Cutting:
Back – 1 piece
Front – 2 pieces
Sleeve – 2 pieces
Yoke – 2 pieces
Collar Stand – 2 pieces
Collar – 2 pieces
Pocket – 1 piece
Note: If you sew a garment from the checked/ plaid fabric, place paper pattern pieces onto fabric so that the plaid of Back and Fronts will match at side seams.
Reinforce with fusible interfacing: Front Facings (one-piece cut with Front), Collar Stand, Collar. Interfacing is fused to the wrong side of fabric with hot iron with steam.
Instructions:
1. Reinforce pieces all necessary pieces (see above).
2. Turn under and press allowance at top of the pocket, turn under raw edge and topstitch along the fold.
3. Embroider an emblem at the pocket.
4. Turn under and press raw edges at the other sides of pocket. Place the pocket onto left Front according to pattern, baste and topstitch.
5. Press Front Facing to the wrong side. Turn under raw edge, topstitch at the fold.
6. Sew a pleat at Back as per the pattern, press and baste raw edges of the pleat.
7. Place Yoked together, face-to-face, place the Back in between, matching at notches. Sew. Turn out, press and topstitch the seam.
8. Sew Yoke to Front in the similar manner.
9. Sew Sleeve into armhole, matching at notches, and press allowances towards the armhole. Cut allowances of ARMHOLE ONLY (not the sleeve) down to 0.5 cm (3/16"). Wrap SLEEVE allowances over ARMHOLE allowances, press towards armhole and stitch to the shirt all around the armhole.
10. Sew side seam and sleeve seam at one go with a "clean" seam: place Front and Back together face sides inside and sew. Then press allowances towards Back. Cut off half width of the lower allowance (allowance of Back). Wrap upper allowance around the lower one, press and stitch to the shirt with double topstitching.
11. Assemble Collar with a Stand.
Place Collar pieces together face side inside and sew at the outer edges. Turn out, press and topstitch. Place Collar Stand pieces face-to-face. Put Collar in between the Collar Stands according to pattern markings, with reinforced Collar Stand piece placed onto reinforced Collar piece. Sew pieces together, continue at rounded ends of Collar Stand.
Clip allowances for ease, turn out. Turn under and press the raw edges of the Collar Stands; place neckline raw edge in between and stitch together. Continue topstitching at upper Collar Stand seam. Topstitch Collar at 0.7 cm (1/4").
12. Press hem allowance of each sleeve to the wrong side, turn in raw edge and stitch at 1.5 cm (5/8") from bottom. Do the same with shirt bottom hem.
13. Make buttonholes at the left Front and Collar Stand as per pattern. Sew buttons.