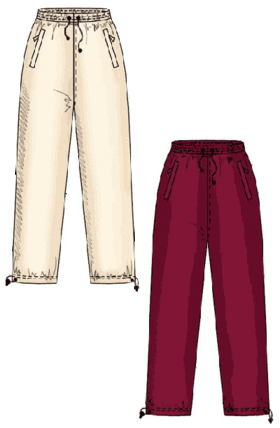 Difficulty: **
You will need: whipcord; lining; fusing; 2 zippers (depending on pocket's length); elastic braid of 4.5 cm (1-6/8") width for waistband; elastic cord for hems; 4 metal blocks; cord for waistband.
Attention! Fabric consumption varies depending on the size of garment. First of all, print out paper patterns and lay them out at the width of fabric/ knit you plan to use, to see how much fabric you will need.
When sewing the garment, pay attention to notches- they must coincide.
Cutting:
Fabric:
1. Front part - 2 pieces
2. Back part - 2 pieces
3. Waistband - 1 piece
4. Large pocket bag - 2 pieces
5. Small pocket bag - 2 pieces
6. Off-set welt - 2 pieces
Lining:
1. Front part - 2 pieces
2. Back part - 2 pieces
Instructions:
1. Apply the fusing to wrong side of off-set welt, press it along the center. Apply the fusing to pocket place. Mark a line determining ready welt's width on the welt. Topstitch the trimming on welt's outer side (welt's outer side coincides with front part's right side). Stitch the welt. Cut pocket entrance between marking lines diagonally towards pocket marking's corners. Turn the welt wrong side out. Press seam allowances apart. Lay the zipper under pocket entrance. Stitch the zipper at 0.1 cm (1/16") from pocket entrance on front part's right side. Stitch small pocket bag to zipper's lower braid, then fold it under. Stitch large pocket bag to zipper's upper braid. Stitch pocket bags' edges. Pocket bags' edges must enter into seam joining the waistband.
2. Stitch side seams, then topstitch. Stitch middle seams and topstitch along left part.
3. Mark lines of topstitching the elastic braid at waistband. Pierce 2 holes (at 8 cm (3-1/8") distance) for cord between topstitchings at front part's middle seam level. Stitch separately waistband and elastic braid in ring. Insert elastic braid into waistband, stretch the braid to waistband's length and make 2 decorative stitches. Stitch the waistband to pants catching elastic braid.
4. Stitch lining's side seams and middle seam. Stitch the lining to garment's waistband.
5. Set blocks into hems. Press hems first at 1 cm (3/8"), then 3.5 cm (1-3/8") under.
6. Stitch fabric/lining inside leg seams.
7. Topstitch hems'allowances.
8. Press ready pants.
9. Pull cords into waistband and hems.