Home / Men / Pants / #6062 Grey pants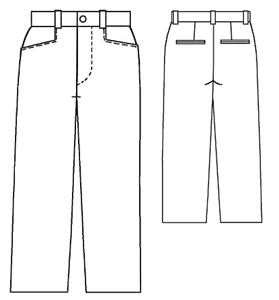 Difficulty: **
You will need: wool or semi-wool; lining; fusing; zipper; 1 button; metal hook (as for men pants).
Attention! Fabric consumption varies depending on the size of garment. First of all, print out paper patterns and lay them out at the width of fabric/ knit you plan to use, to see how much fabric you will need.
When sewing the garment, pay attention to notches- they must coincide.
Cutting :
Fabric:
1. Fly front - 1 detail
2. Button catch - 1 detail
3. Side - 2 details
4. Back subpocket - 2 details
5. Back pocket facing - 4 details
6. Front part - 2 details
7. Back part - 2 details
8. Waistband - 1 detail
9. Belt loop - 1 detail
Lining:
1. Front pocket lower pocket bag - 2 details
2. Front pocket upper pocket bag - 2 details
3. Back pocket lower pocket bag - 2 details
4. Back pocket upper pocket bag - 2 details
Fusing: waistband, facing, fly front, button catch.
Instructions:
1.Apply the fusing to wrong side of waistband, facing, fly front and button catch.
2.Coincide pocket entrance facing and the side their wrong side on front pocket pocket bag right side along marking, tack along edges and stitch with close zig zag along lower contours.
3.Sew pocket pocket bags to front and back parts along marking; then press allowances to pocket bags. Coincide edges and sew side seams and pocket contour. Make a decorative stitch along front pocket entrance on right side. Sew pocket bag and waistline edge.
4.Sew back darts and sew them into the center.
5.Make back slip pockets "in frame", with two facings. Fold facing right side out and press along the center. Pin facing (folded to different directions) on the garment right side along marking. Lay lining pocket bag on lower facing; lay fabric pocket bag on upper facing and stitch on 5 cm (2") distance along both sides of marking. Cut the fabric along the center between stitches, with small corner at stitch ends, then turn pocket bag into wrong side and make facings of 1 cm (3/8"). Topstitch facing free edges on pocket bag. Coincide both pocket bags, make them equal and stitch along the contour. Stitch facing ends on the fabric triangles on the wrong side. Tack pocket bag edges and waistline edge.
6.Sew front part middle seam up to closure.
7.Sew the fly front to left front part. Press the fly front into garment wrong side. Pin the zipper to closure right edge, put on it the button catch folded along the center its right side out, coinciding them along edges; sew all layers. Make the button catch right and make a decorative stitch along zipper edge. Sew zipper another edge to the fly front. Serge the fly front and topstitch it on the garment. Make fixing stitch along lower edges, from the wrong side.
8.Sew side and crotch seams. Sew back middle seam.
9.Overstitch belt loop, turn it right side out, press and divide into 6 parts.
10.Pin belt loops on waistline edge according to marks.
11.Sew the waistband to garment upper edge. Fold the waistband along the center and overstitch front short edges. Turn waistband inner edges under and topstitch along joining seams. Sew belt loops another ends to waistband upper edge.
12.Serge hems, press them under and sew with blind stitches.
13.Make a buttonhole into waistband left end and sew the button on right one.