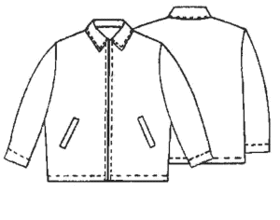 Difficulty: ***
Recommended fabrics: wool or wool blend fabrics for suits, lightweight fabrics for coats
Attention! Fabric consumption varies depending on the size of garment. First of all, print out paper patterns and lay them out at the width of fabric/ knit you plan to use, to see how much fabric you will need.
When sewing the garment, pay attention to notches- they must coincide.
You will need: Wool blend fabric; plaid (make the layout to determine fabric consumption);
thin faux fur; black lining fabric quilted with warmer; black cotton fabric; fusible interfacing;
black satin bias tape for piping 2.5 cm (1") wide; zipper (consult your own pattern for zipper length).
Cutting:
Wool Fabric:
Back - 1 piece
Front - 2 pieces
Sleeve - 2 pieces
Upper Collar - 1 piece
Pocket F?cing - 2 pieces
Pocket Welt – rectangle 17 x 4 cm (7" x 1 5/8") - 2 pieces
Lower Collar - 1 piece
Cotton Fabric:
Pocket Bag - 4 pieces
Faux Fur:
Back – 1 piece with fold
Front – 2 pieces
Lining quilted with warmer/ polyfill:
Sleeve – 2 pieces
For patterns of LINING, please use Back and Front pieces, and Sleeve, 2 cm (6/8") shortened at bottom hem.
Reinforce Upper Collar and Pocket Welts with fusible interfacing.
NOTE: If you plan on using plaid fabric, pin paper patterns to the fabric with consideration that plaid should match at seams.
Instructions:
1. Reinforce with fusible interfacing Upper Collar and Pocket Welts, by fusing interfacing to the wrong side of fabric by hot iron.
2. Place wrong side of Pocket Facing onto face side of inner Pocket bag, turn under raw edge and stitch at the edge. Baste Pocket Facing with Pocket bag at the other edges.
3. Assemble welted pockets at each Front. Pin Welt and Pocket Bag at the face side of garment, according to pocket opening marking. Pin pocket bag with Facing, directed upward. Stitch at the distance of 5 mm (3/16") at the both sides of pocket opening. Cut the fabric between two seams, in corners cut diagonally. Turn pocket bags to the wrong side. At the wrong side, topstitch Welt allowance to pocket bag. Align the pocket bags, cut off uneven ends and sew around the edge. At the wrong side, sew ends of Pocket Welt to the small triangles of fabric.
4. Sew side and shoulder seams.
5. Sew sleeve seams.
6. Sew sleeve into armhole, matching the notches and slightly shirring sleeve head as per markings.
7. Place upper and lower collars together, face sides inside, sew around at the outer edges, turn out, press and topstitch at 7 mm (1/4"). Baste together raw edges of collar.
8. Place the collar into neckline (lower collar against face side of garment), matching notches with shoulder seams, and baste.
9. Open zipper into halves. Turn under and press allowance at the center front edge of each Front. Place each zipper half under the Front, matching zipper teeth with center front fold and topstitch zipper to front.
10. Sew pieces of lining together similar to the pieces of shell fabric. Encase bottom hem and center front edges of lining in bias tape.
11. Place lining over shell of garment, both face sides inside. Sew together at neckline, attaching the collar. Turn out; press.
12. Hand-sew center front of lining to the zipper.
13. Turn under and press hem allowance of sleeve and stitch around the sleeve hem.
14. Turn under and hand-sew bottom of sleeve lining to the sleeve of shell fabric.
15. Turn under and press hem allowance of the jacket. Stitch along the hem.
16. Hand-sew lining to jacket at bottom.