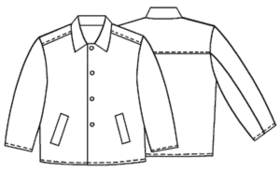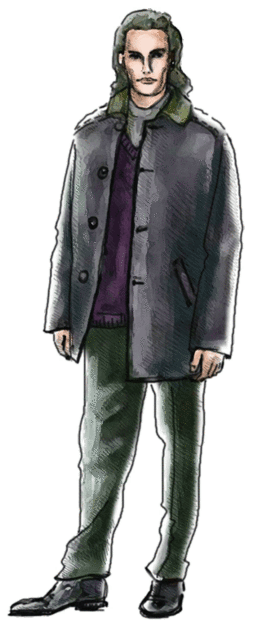 Difficulty: **
Recommended fabrics: wool or wool blends
You will need: Wool fabric for shell; lining dyed-to-match; fusible interfacing; 4 buttons 2.5 cm (1") in diameter.
Cutting:
Wool fabric:
Back - 1 piece
Front - 2 pieces
Yoke - 1 piece
Front Facing – 2 pieces
Front Sleeve - 2 pieces
Back Sleeve - 2 pieces
Upper Collar - 1 piece
Pocket Facing - 2 pieces
Pocket Welt - 2 pieces
Lower Collar - 1 piece
Lining (use patterns for shell with some changes):
Back, adding a pleat 1 cm (3/8") deep at center back;
Front, with Front Facing area excluded;
Front Sleeve
Back Sleeve
Pocket Bags – 4 pieces
Shorten assembled lining at bottom hem by 2 cm (3/4").
Fusible interfacing: Upper Collar; Pocket Welts.
Note: If you sew the vest out of plaid fabric, pin paper parts onto fabric, matching the plaids at side seams.
Instructions:
1. Reinforce Upper Collar and Pocket Welts with fusible interfacing.
2. Assemble Welted Pockets.
Apply Pocket Facing wrong side onto inner Pocket Bag, matching raw edges at top. Turn under raw edge at bottom of Pocket Facing; edgestitch the Facing onto Pocket Bag.
Baste Pocket Facing with Bag at raw edges.
Assemble welted pockets at each Front. Pin Welt and Pocket Bag at the face side of garment, according to pocket opening marking. Pin pocket bag with Facing, directed upward. Stitch at the distance of 5 mm (3/16") at the both sides of pocket opening. Cut the fabric between two seams, in corners cut diagonally. Turn pocket bags to the wrong side. At the wrong side, topstitch Welt allowance to pocket bag. Align the pocket bags, cut off uneven ends and sew around the edge. At the wrong side, sew ends of Pocket Welt to the small triangles of fabric.
3. Line up Yoke and Back pieces face-to-face and sew together. Press allowances towards Yoke, edgestitch at 0.5 cm (3/16").
4. Sew shoulder seams in a similar manner.
5. Sew Front Sleeve to Back Sleeve. Press allowances towards Front Sleeve; topstitch seam at 0.5 cm (3/16").
6. Sew Sleeve into armhole, matching the notches and making some ease-in in the sleeve cap area.
7. Line up Upper and Lower Collars face-to-face, sew together at outer edges, turn out, press and topstitch finished edges at 0.5 cm (3/16"). Baste together raw edges of Collar.
8. Place the collar into neckline (lower collar against face side of garment), matching notches with shoulder seams, and baste.
9. Assemble lining similar to shell. Sew Front Facings to lining. Trim 2 cm off the bottom of lining.
10. Line up lining with shell face-to-face and sew together at neckline, front edges and bottom hem (leaving an opening for turning out). Turn out the garment; press edges.
11. Hand-sew lining to shell hem allowance, to close the opening at bottom.
12. Turn under and press hem allowance of sleeve and stitch around the sleeve hem.
13. Turn under and hand-sew bottom of sleeve lining to the sleeve of shell fabric.
14. Topstitch the garment along the bottom hem.
15. Mark buttonholes at the left front as per pattern marks.
16. Sew buttons to right Front accordingly.