Home / Girls / Suits / #7107 Top (Two-Fabrics Set)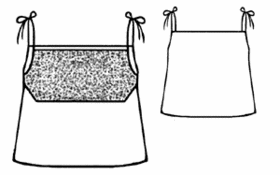 Difficulty: *
Recommended fabrics: fabrics of natural or mixed (natural/ synthetic) fibers; shell fabric and trim fabric should be of the same fiber content.
Attention! Fabric consumption varies depending on the size of garment. First of all, print out paper patterns and lay them out at the width of fabric/ knit you plan to use, to see how much fabric you will need.
When sewing the garment, pay attention to notches- they must coincide.
Cutting:
Shell:
1. Back – 2 pieces
2. Front – 1 piece
Trim:
3. Front Yoke – 1 piece
Instructions:
1. Cut bias stripe at 45 degree angle to selvages, for trimming neckline of back, front and armholes. The bias may be of several stripes, sewn into one long stripe. Seam allowances must be pressed open.
2. Sew Front Yoke to Front, clipping Front in corners. Serge the seam of attaching Yoke, press.
3. Sew and serge side seams. Press allowances towards Back. Sew and serge center back seam. Press allowances to one side.
4. Trim neckline of Front and Back with the bias stripe. For that purpose, match raw edges of neckline and bias stripe and stitch around neckline. Encase raw edges with the bias, turning half of it to the wrong side. Press. Stitch bias in the ditch at the face side, fastening bottom edge of bias at the same time.
5. Trim armholes of Front and Back with bias stripe, leaving long tails of bias at top corners of armholes – to form shoulder ties.
6. Serge bottom of garment, turn hem allowance to the wrong side, topstitch. Press bottom hem.