Home / Girls / Skirts / #7036 Jean Skirt with Pleats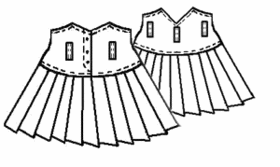 Difficulty: **
Recommended fabrics: jean fabrics or cotton blends.
You will need: jean fabric; 3 metal buttons.
Attention! Fabric consumption varies depending on the size of garment. First of all, print out paper patterns and lay them out at the width of fabric/ knit you plan to use, to see how much fabric you will need.
When sewing the garment, pay attention to notches- they must coincide.
Cutting:
Back Yoke - 1 piece
Front Yoke - 2 pieces
Bottom Back - 1 piece
Bottom Front - 1 piece
Back Yoke Lining - 1 piece
Front Yoke Lining - 2 pieces
Button Fly - 2 pieces
Belt Loop - 1 piece
Instructions:
1. Sew side seams of Front and Back Yokes. Press allowances open.
2. Sew each Button Fly to Front Yoke Lining. Press allowances open.
3. Sew side seams of Front and Back Lining pieces. Press allowances open.
4. Place Yoke and Yoke Lining together face-to-face and stitch at top edge and front (closure) edges.
5. Make buttonholes into right Front Yoke.
6. Sew side seams of Bottom Front and Bottom Back. Press allowances open. Hem the bottom edge – serge raw edge, turn under hem allowance, press and hem with hand-stitches.
7. Fold and baste pleats at Bottom parts of skirt, press the pleats.
8. Sew Bottom of skirt to the Yokes. Press allowances towards Yokes. Turn under raw edge of Yoke Lining, baste to Yoke. Topstitch the Yoke, attaching Yoke Lining at the same time.
9. Fold Belt Loop piece lengthwise in half, face side inside, stitch at long edges, turn out, press and topstitch. Cut the piece into 5 equal pieces. Turn under ends of each Loop, place onto skirt as per pattern, and topstitch with strong bartacks.
10. Sew buttons to the left Front Yoke.