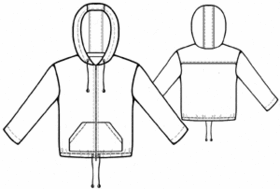 Difficulty: **
Recommended fabrics: fleece, sweatshirt knit.
You will need: Fleece or knit; fusible interfacing; 1 separating zipper (refer to the pattern for zipper length); drawcord (approximate lengths of drawcord in hood and bottom tunnel are given on the pattern).
Attention! Fabric consumption varies depending on the size of garment. First of all, print out paper patterns and lay them out at the width of fabric/ knit you plan to use, to see how much fabric you will need.
When sewing the garment, pay attention to notches- they must coincide.
Cutting:
Shell Fabric:
1. Front - 2 pieces
2. Back - 1 piece
3. Pocket - 2 pieces
4. Back Yoke – 1 piece
5. Front Facing – 2 pieces
6. Back Neck Facing – 1 piece
7. Sleeve - 2 pieces
8. Side Hood – 2 pieces
9. Center Hood – 1 piece
Fusible Interfacing: Front Facing, Back Neck Facing, slanted edges of Pocket.
Instructions:
1. Reinforce with fusible interfacing Front Facings, Back Neck Facing, slanted edges of Pocket.
3. Sew Side Hood pieces to the Center Hood piece, serge the seams. Mark and sew buttonholes at the Hood. Turn to the wrong side an allowance at the face edge of hood, turn under raw edge; topstitch to form tunnel for drawcord.
4. Sew pockets to fronts: Serge raw edges of Pocket. Press serged allowances to the wrong side according to pattern. Topstitch slanted sides of Pocket at 2.5 cm (1"). Mark pocket placement at the Front piece. Place Pocket onto Front, pin and topstitch at all sides except slanted entrances and center front edges.
5. Place Fronts face-to-face, align and trim excess at bottom, if necessary. Separate zipper and sew zipper to Fronts.
6. Sew Back Yoke to the Back. Press allowances towards Yoke and topstitch the seam.
7. Sew side and shoulder seams. Serge and press allowances towards Back.
8. Sew Back Neck Facing to the Front Facings. Serge inner edge (NOT the front and neckline edge) of Front Facings+Back Neck Facing. Place Front Facing onto Front face-to-face, insert Hood in between. Pin and stitch at front edge and neckline, all the way from bottom to bottom.
9. Mark placement of buttonholes at Fronts, stitch the buttonholes. Turn out bottom fronts to the face side, press.
10. Sew and serge Sleeve seam. Press the seam. Turn under bottom hem allowance of each Sleeve, first, for 1 cm (3/8"), then again, for 2 cm (6/8"). Press the sleeve hem. Topstitch Sleeve hem allowance. Sew Sleeves into armholes matching the notches.
11. Topstitch Fronts along zipper at 0.5 cm (3/16"). Turn under bottom hem allowance, first, for 1 cm, then again, for 2 cm. Press and topstitch the bottom hem. Pull the drawcord into hood and bottom of garment.