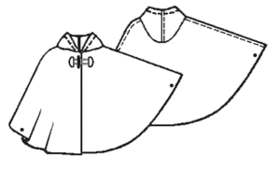 Difficulty: *
Recommended fabrics: well-draping woolen, blended or synthetic fabrics, with pattern or without one.
You will need: Heavyweight well-draping fabric for shell; 1 toggle closure; 2 decorative metal snaps 1.4 cm (9/16") in diameter; skein of white yarn.
Note: This model requires a lot of handstitching. If you want to save time, or don't like to handstitch, use regular topstitching instead. In cases where decorative hand-stitching with white yarn is suggested, you can machine-topstitch edges of poncho with contrasting threads.
Attention! Fabric consumption varies depending on the size of garment. First of all, print out paper patterns and lay them out at the width of fabric/ knit you plan to use, to see how much fabric you will need.
When sewing the garment, pay attention to notches- they must coincide.
Cutting:
Back - 1 piece
Hood - 2 pieces
Front - 2 pieces
Front Facing - 2 pieces
Instructions:
1. Sew Fronts to Back at shoulder/sleeve edges, serge allowances, press towards Back and topstitch at 0.5 cm (1/4").
2. Sew center hood seam, serge allowances, press them towards left side and topstitch at 0.5 cm (1/4").
3. Turn under and press allowance at face edge of Hood; hand-sew with blind-hem stitches and trim with a decorative hand-stitching (for example, blanket stitch) using white yarn.
4. Sew Hood into neckline, matching notches of Hood with shoulder seams.
5. Place Front Facing onto garment face-to-face, matching center front edges. Stitch Front Facings to Fronts at center front edges. Turn the Front Facings to the wrong side, press.
6. Turn under raw edge at top of Front Facing and hand-sew to neckline of garment. Turn under allowance of neckline of Back, hand-sew to neckline.
7. Trim center front edges of poncho with decorative hand-stitching, just like the Hood.
8. Serge inner raw edge of each Front Facing. Hand-sew inner edge of Front Facing to Front with blind-hem stitches.
9. Turn under bottom hem allowance; hand-sew with blind-hem stitches. Trim bottom with decorative hand-stitching with white yarn.
10. Mark closure placement at Fronts. Apply patches of toggle closure to Fronts, stitch them on.
11. Mark snaps placement as per pattern. Install the snaps.