Home / Girls / Coats / #7071 Sheepskin coat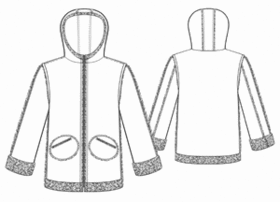 Difficulty: ***
You will need: artificial sheepskin; lining; 1 separable zipper; 2 zippers for pockets.
Attention! Fabric consumption varies depending on the size of garment. First of all, print out paper patterns and lay them out at the width of fabric/ knit you plan to use, to see how much fabric you will need.
When sewing the garment, pay attention to notches- they must coincide.
Cutting:
Fabric:
1. Back part - 1 detail
2. Front part - 2 details
3. Oval yoke - 2 details
4. Hood - 2 details
5. Center hood - 1 detail
6. Front sleeve - 2 details
7. Middle sleeve - 2 details
8. Lower sleeve - 2 details
9. Hood facing - 1 detail
Lining:
1. Upper pocket small lining - 2 details
2. Upper pocket big lining - 2 details
Instructions:
1. Mark oval yoke place on front part. Lay the yoke under front part and topstitch.
2. Mark pocket place on oval yoke. Cut a slit along pocket entrance, make diagonal slits at 1-1.5 cm (5/8") from pocket ends. Lay the zipper under pocket entrance edges so that zipper teeth are visible. Edgestitch pocket entrance. Stitch upper pocket big/small linings. Stitch pocket lining and serge it.
3. Stitch hood center to hood (with seams on right side). Lay hood facing on hood right sides together and overstitch.
4. Stitch sleeve parts (with seams on right side).
5. Stitch shoulder edges (with seams on right side). Stitch sleeves into open armholes. Topstitch seams joining sleeves. Stitch sleeve hem and garment side edges with one seam.
6. Stitch the hood into neckline (with the seam on right side).
7. Cut artificial leather stripe of 4 cm (1-5/8") width and the length equal to zipper length. Lay the stripe on front part right side together, inserting the zipper between them. Overstitch edging with stripe and fold it into wrong side. Cut overstitching to 0.2-0.3 cm (1/8") to reduce edge overstitching thickness. Fold stripe free edge to 1 cm (3/8") into wrong side. Make decorative stitch along edging, catching the stripe. Fold hem into right side and topstitch. Fold hood facing into right side and topstitch.