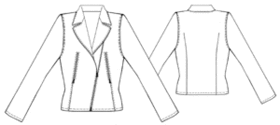 Difficulty: **
Recommended fabrics: Jean fabric
You will need: jean fabric; fusible interfacing; lining; separating zipper for front closure; 2 zippers for pockets (non-separating, but matching zipper for closure).
Attention! Fabric consumption varies depending on the size of garment. First of all, print out paper patterns and lay them out at the width of fabric/ knit you plan to use, to see how much fabric you will need.
When sewing the garment, pay attention to notches- they must coincide.
Cutting:
Shell:
1. Back – 1 piece
2. Right Front – 1 piece
3. Left Front – 1 piece
4. Middle Front – 3 pieces
5. Lower Collar – 1 piece
6. Upper Collar – 1 piece
7. Sleeve – 2 pieces
Lining:
1. Back – 1 piece
2. Front – 2 pieces
3. Sleeve – 2 pieces
4. Small Pocket Bag – 2 pieces
5. Large Pocket Bag - 2 pieces
Fusible Interfacing: Middle Fronts, Lower Collar.
Instructions:
1. Reinforce Middle Fronts, Lower Collar with fusible interfacing.
2. Line up Upper Collar and Lower Collar face-to-face, stitch at three outer edges. Clip allowances in corners. Turn out the Collar, press.
3. Mark darts' placement at Back. Sew darts. Press darts' allowances towards center front.
4. Assemble front pockets with zipper. Sew part of dart at each Front, from bottom up to the notch for zipper. Trim excess fabric of darts' allowances down to 3/8". Reinforce the pocket area at the wrong side with a stripe of fusible interfacing. Mark pocket entrance placement at fusible, as per pattern. Cut pocket entrance, making 2 diagonal cuts into corners at about 1-1.5 cm (5/8") from ends of pocket. Turn under allowances at pocket entrance, press. Place zipper underneath the pocket opening, so that zipper teeth are centered in the opening, baste zipper tape to pocket opening. Edgestitch pocket entrance all around. Sew large and small pocket bags to allowances of zipper tape inside the garment. Pin pocket bags together, trim to make raw edges even. Stitch pocket bags together at sides and bottom.
5. Separate zipper for front closure. Sew one half of zipper to the Left Front, with zipper teeth directed towards side seam. Sew Middle Front to Left Front. Edgestitch the seam. Sew another half of zipper to the Right Front. Important: make sure there's no misalignment of Fronts, when zipper halves are connected. For best results, baste zipper halves to Fronts first, then check for misalignment, then machine-stitch zipper halves to Fronts.
6. Line up Middle Front parts with Left Front and Right Front face-to-face, stitch together along the front edge. You must stitch at the Fronts from the bottom up to the notch for Collar. Sew bottoms of Middle Fronts to Left/Right Fronts exactly at the marked hemline. Clip allowances in top and bottom corners of fronts. Turn out the fronts to face side.
7. Sew shoulder and side seams of jacket. Press seams towards Back. Double-topstitch the seams at Back.
8. Sew seams of Sleeves. Press allowances to one side.
9. Sew Sleeves into armholes as per notches. Double-topstitch the seams at Fronts/Back.
10. Assemble parts of lining similar to shell, leaving an opening in the right sleeve seam. Press lining.
11. Sew lining to the inside edges of Middle Front. Insert and pin Collar between necklines of jacket and lining. Sew Collar into necklines. Double-topstitch jacket at front edges, lapels and outer edge of Collar.
12. Sew lining to the bottoms of Sleeves and bottom of jacket. Turn the jacket to the face side through the opening in the right Sleeve. Sew to close edges of right sleeve. Topstitch bottoms of Sleeves and jacket at 2.0 cm (3/4") from the edge.