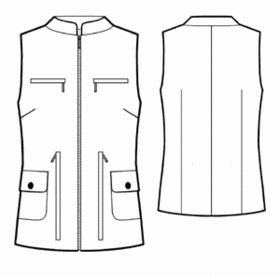 Difficulty: ***
You will need: wool or semi-wool, fusing, 1 button, zipper, decorative braid, lining.
Attention! Fabric consumption varies depending on the size of garment. First of all, print out paper patterns and lay them out at the width of fabric/ knit you plan to use, to see how much fabric you will need.
When sewing the garment, pay attention to notches- they must coincide.
Cutting:
Fabric:
1. Back part - 2 details
2. Front part - 2 details
3. Stand-up collar - 2 details
4. Flap - 4 details
5. Pocket - 2 details
6. Front facing - 2 details
7. Upper pocket facing - 2 details
8. Side pocket facing - 2 details
Lining:
1. Back part - 2 details
2. Front part - 2 details
3. Upper pocket lining - 4 details
4. Side pocket pocket bag - 4 details
Fusing: outer stand-up, front facing.
Instructions:
1. Apply the fusing to wrong side of upper stand-up collar and front facing.
2. Sew back dart, press back darts towards back center. Sew front dart. Press front darn downwards.
3. Fold facings of upper pocket and side pocket along the center, wrong side inside, and press them.
4. Apply stripe of fabric to pocket enter. Mark an auxiliary line (stitching line) at pocket facing which is parallel to facing bend. Mark auxiliary lines going parallel to pocket entrance (to sew facing and pocket lining). Sew facing and pocket lining to marked line. Sew pocket lining at distance equal to finished facing width. Cut pocket entrance stopping 1.5 cm (5/8") before ends. Make diagonal notches into corners, at 1.5 cm from pocket end. Pull the lining and facing right side out through this slit. Fix pocket ends with double stitch at corners' base (on wrong side). Sew the zipper in and sew lining second part to facing allowance. Slash pocket bag and stitch it. Do the same for upper and side pockets. Press ready pocket.
5. Fold flap details right side inside, then overstitch. Slash allowances of flap corners, then turn right side out. Press ready flap.
6. Serge upper edge of patch pocket. Press upper allowance of patch pocket, then topstitch it. Overstitch patch pocket outer contour and press allowances in accordance with patterns, leaving pocket side slit free.
7. Mark place of pocket and topstitch it on front part at 0.5 cm (3/16") from pocket edge.
8. Sew the zipper to front edges.
9. Lay front facing on front part's right side. Right sides together, pin, and overstitch along edging. Overstitch edging along front part up to the notch pointing end of sewing stand-up collar in. Sew lower edges of front facings to front part strictly along marked hemline. Cut seams of upper/lower corners of edging. Turn edgings right side out. Measure lengths of edgings and topstitch along edging at 0.7 cm (1/4").
10. Overstitch lower stand-up collar with lower one; turn stand-up right side out, slash corners and press the collar.
11. Sew back middle seam and press it apart. Sew shoulder/side seams and press them apart.
12. Sew the flap. Turn the flap into right side and topstitch on 5 cm (2") from joining seam.
13. Sew seams into lining, leaving a slit into right side seam. Press the seam towards front center, press back seams towards back center.
14. Sew lower stand-up collar into garment neckline, sew upper stand-up collar into lining vest. Press allowances of seams joining stand-ups, close to seams.
15. Overstitch front/back necklines with lining. Edgestitch the seam. Sew the garment to front facing outer edges and garment hem. Turn the waistband right side out through side seam. Sew the slit into side seam.