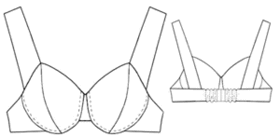 Difficulty: **
Recommended fabrics: Heavyweight satin fabrics – 100% silk or polyester. (NON ELASTIC ONLY!!!)
You will need: silk satin; hook-and-eye tape or lingerie closure.
Attention! Fabric consumption varies depending on the size of garment. First of all, print out paper patterns and lay them out at the width of fabric/ knit you plan to use, to see how much fabric you will need.
When sewing the garment, pay attention to notches- they must coincide.
Cutting:
Fabric:
1. Shoulder Strap - 4 pieces
2. Side – 2 pieces
3. Side Cup – 4 pieces
4. Front Cup – 2 pieces
5. Front Insert - 2 pieces
Instructions:
1. Place Shoulder Straps face-to-face and sew around two long sides and one short side. Turn out, press and topstitch Shoulder Straps.
2. Sew together Side and Front parts of Cups. Fold back Front Cup partially to the wrong side, sew Cup around at top, front and bottom edges, placing Shoulder Strap in between the two layers of Cup. Turn Cups to the face side, baste and press.
3. Fold each Side part lengthwise in half, face side inside, and sew along the long raw edge; turn out and press. Sew Side parts to Cups.
4. Place Front Insert pieces together, face sides inside, and stitch at top and bottom edges. Turn out, press the Insert. Sew Insert to the Cups. Topstitch the Cups at 0.5 cm at lower curved seam (see the picture).
5. Insert elastic tape through the open ends of Side parts up to the marking, sew to fixate the elastic. Pull elastic to gather the fabric. Sew hook-n-eye tape to the ends of Side parts of the bra.
6. Try the bra on, adjust shoulder straps and sew them to the back.