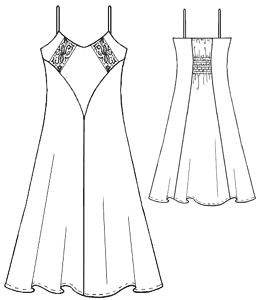 Difficulty: **
Recommended fabrics: well-draping silk fabrics, either 100% silk or other fibers such as rayon or polyester.
You will need: silk fabric; fine lace with scallops at both sides; elastic 1/4" wide; elastic string.
Attention! Fabric consumption varies depending on the size of garment. First of all, print out paper patterns and lay them out at the width of fabric/ knit you plan to use, to see how much fabric you will need.
When sewing the garment, pay attention to notches- they must coincide.
Cutting:
Silk fabric:
1. Top Center Back - 1 piece with fold
2. Side Back Panel - 2 pieces
3. Top Side Front – 2 pieces
4. Top Center Front - 1 piece with fold
5. Front Panel – 2 pieces
6. Shoulder Strap – 2 pieces
Scalloped Lace:
7. Front Inserts - 2 pieces
Instructions:
1. Sew center back seam of Front Panel.
2. Serge and seam allowances of Top Side Front and Top Center Front, adjacent to Lace Inserts, press allowances to the wrong side. Place Front Lace Inserts onto Top Side Front and Top Center Front with 0.5 cm (3/16") overlap, baste and stitch onto Front.
3. Placing pieces face-to-face, sew Top Front unit to the Front Panels.
4. At the wrong side of Center Back, place pieces of thin elastic tape or elastic threads. Stitch elastics with zig-zag stitching; avoid pinning elastics with machine needle. Pull elastics to make shirring of back, hand-sew ends of elastics.
5. Press to the wrong side the top edge of Top Center Back; topstitch to form a tunnel for elastic.
Draw elastic through the tunnel, pull slightly and hand-sew ends of elastic to the Back.
Press to the wrong side top edges of Center and Side Fronts and Side Backs. Stitch along the pressed top edges.
6. Sew vertical seams of Back. Sew side seams.
7. Fold each shoulder strap lengthwise face side inside and sew along the long side. Turn out, baste and press. Sew straps with front ends underneath the bust cup corners. Try on the garment, adjust straps length. Sew back ends of shoulder straps to the top edge of back.
8. Serge hem allowance, press to the wrong side and topstitch.