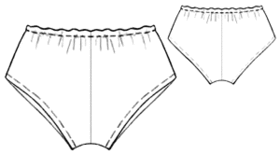 Difficulty: *
Recommended fabrics: knits for underwear.
You will need: knit fabric; elastic with one-edge scallops.
Attention! Fabric consumption varies depending on the size of garment. First of all, print out paper patterns and lay them out at the width of fabric/ knit you plan to use, to see how much fabric you will need.
When sewing the garment, pay attention to notches- they must coincide.
Cutting:
Shell:
1. Back Part - 2 pieces
2. Front Part - 2 pieces
Instructions:
1. Sew side seams and inseams, lining up Front and Back parts face-to-face. Press allowances open.
2. Insert halves of Pants one into another. Sew crotch seam, leaving a small opening at back waist, for inserting elastic.
3. Turn under and press allowance for waist tunnel, turn under raw edge and edgestitch. Insert elastic equal in length to the waist girth, into the tunnel. Sew ends of elastic together.
4. Apply elastic with edge scallops to leg openings and sew, slightly stretching the elastic, with zig-zag seam so that the scallops extend 2 mm (1/16") off the marked hem line. Turn allowances to the wrong side, topstitch scalloped edges at the face side again, slightly stretching the elastic.