Home / Women / Underwear / #5246 Flirty pajama-bodysuit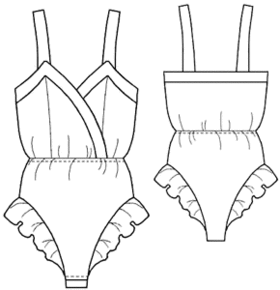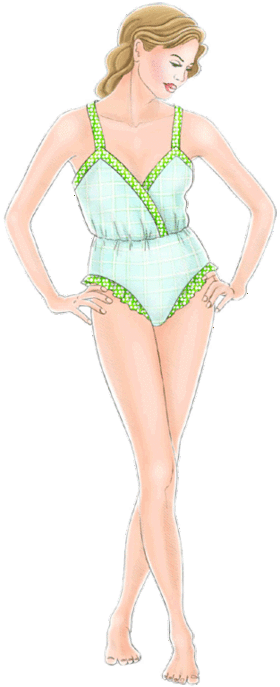 Difficulty: **
Recommended fabrics: light cotton and cotton blend fabrics.
You will need: fine cotton fabric; cotton fabric for trimming; elastic 3/8" wide; 3 small snaps for underwear.
Attention! Fabric consumption varies depending on the size of garment. First of all, print out paper patterns and lay them out at the width of fabric/ knit you plan to use, to see how much fabric you will need.
When sewing the garment, pay attention to notches- they must coincide.
Cutting:
Basic fabric:
1. Top Back - 1 piece
2. Lower Back - 1 piece
3. Lower Front - 1 piece
4. Top Center Front – 2 pieces
5. Top Side Front – 2 pieces
Trim fabric:
6. Back Facing – 1 piece
7. Front Facing – 2 pieces
8. Ruffle – 2 pieces
9. Shoulder Strap – 2 pieces
Instructions:
1. Sew together Top Center Front and Top Side Front pieces. Sew side seams of Front and Back. Sew side seams of Facings.
2. Place face side of Facing onto the wrong side of garment and stitch along the top edge. Turn the Facing to the face side of garment. Turn under raw edge, press. Stitch Facing onto face side of the garment. Topstitch the top edge at 0.1 cm (very close to the edge).
3. Place right Front onto left Front, matching at center front, and baste together raw edges at bottom.
4. Sew side seams of panties (Lower Back and Lower Front pieces). Assemble the ruffles as follows. Straight edge of each ruffle: turn under raw edge twice, press and stitch. Curved edge: make a shirring and baste the shirred edges to the panties' leg openings between the notches.
5. Turn to the wrong side the facing parts at bottom of panties, turn under raw edge and press. Serge allowances at leg openings, press to the wrong side and stitch. Place elastic tape under the edge of leg openings and attach with zig-zag seam, slightly stretching the elastic.
6. Attach panties to the top. Press seam allowances down. Topstitch the allowance onto top at 3/8"-1/2" distance from the seam to form a tunnel for casing. Cut a piece of elastic the length of your waist circumference. Pull the elastic through the tunnel, hand-stitch the ends of elastic together.
7. Fold each shoulder strap in half lengthwise face side inside and stitch along the long raw edge. Turn out the shoulder strap, press and topstitch at the very edge of the seam. Sew shoulder straps to the front corners, try the garment on, adjust the length of straps and hand-sew them to the back according to markings.