Home / Women / Tops / #5297 Chiffon draped top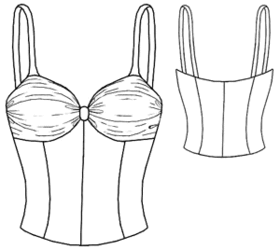 Difficulty: **
Recommended fabrics: soft draping silk
You will need: satin lining, separating zipper.
Attention! Fabric consumption varies depending on the size of garment. First of all, print out paper patterns and lay them out at the width of fabric/ knit you plan to use, to see how much fabric you will need.
When sewing the garment, pay attention to notches- they must coincide.
Cutting:
Fabric:
1. Front part center –2 details
2. Front part side - 2 details
3. Back part center - 1 detail
4. Back part side –2 details
5. Cup – 2 details
6. Draping detail of cups – 1 detail
7. Front facing – 1 detail
8. Back facing – 2 details
9. Strap – 2 details
Lining:
1. Front part center – 2 details
2. Front part side - 2 details
3. Back part center - 1 detail
4. Back part side –2 details
5. Cup – 2 details
6. Strap – 2 details
Recommendations on sewing sheer material. Do not draw contours via carbon paper on material, for they will be visible on the right side. The simplest way is to cut all details with equal allowances and sew edges on equal width.
Instructions:
1. Tack lining and fabric details and then sew them as usual (as fabric only).
2. Sew bust darts into cups.
3. Sew front part centers, front part princess seams.
4. Sew back part princess seams.
5. Sew right side of the top.
6. Tack lining and chiffon straps. Fold straps along the center and topstitch on 1 cm (3/8") width from the bend. Turn straps right side out, then press and sew to cups.
7. Make drapes into the detail to be draped. Make large machine stitches along both sides of front part center line and along side edges. Do not gather details on the string.
8. Tack draping detail to upper edge of front part, with draping detail edge opened between marks.
9. Sew cups to front parts.
10. Turn draping detail upward and gather it on lower strings to front center line up to 4 cm (1-5/8") height and along side edges up to cups side edges. Fold the stripe along the center and make a stitch 1 cm below the bend. Turn the stripe put and fold with it draping detail along front center lines. Sew stripe ends on the wrong side. Tack the detail. To avoid hanging drapes, you can invisibly sew them to cups by hand.
11. Press front/back part left sides into the wrong side and sew the zipper.
12. Sew front and back facing together and oversew facings outer edges.
13. Overstitch upper edge of the garment with facings. Turn the facings and topstitch seam allowance on 0.1 mm (very close) from the edge.
14. Turn the facing wrong side out and topstitch it to the zipper.
15. Fit the straps and sew their back ends under back upper edge.
16. Press the hem into wrong side and topstitch.