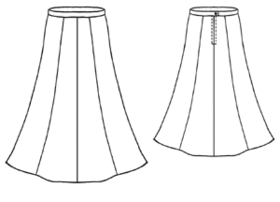 Difficulty: *
You will need: soft wool, fusing, 1 zipper, 1 button.
Attention! Fabric consumption varies depending on the size of garment. First of all, print out paper patterns and lay them out at the width of fabric/ knit you plan to use, to see how much fabric you will need.
When sewing the garment, pay attention to notches- they must coincide.
Cutting :
Fabric:
1. Back panel middle gusset - 2 details
2. Back panel side gusset - 2 details
3. Front panel middle gusset - 2 details
4. Front panel side gusset - 2 details
5. Waistband - 1 detail
Fusing: apply the fusing to wrong side of waistband.
Instructions:
1. Sew center front and center back seams. Leave an opening in center back seam for zipper closure. Sew princess seams and side seams.
2. Sew the zipper in, with its teeth hidden.
3. Fold the waistband along the center, sew ends and closure allowance. Sew the waistband to garment upper edge. Fold waistband inner part under and sew it above the joining seam. Make a buttonhole and sew the button.
4. Sew the garment hem.