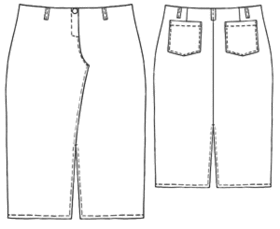 Difficulty: **
Recommended fabrics: stretch denim
You will need: Stretch denim; fusible interfacing; zipper; 1 button; contrast knits for topstitching.
Attention! Fabric consumption varies depending on the size of garment. First of all, print out paper patterns and lay them out at the width of fabric/ knit you plan to use, to see how much fabric you will need.
When sewing the garment, pay attention to notches- they must coincide.
Cutting:
Fabric:
1. Back panel – 2 details
2. Front right panel - 1 detail
3. Front left panel - 1 detail
4. Back panel facing - 1 folded detail
5. Front right panel facing - 1 detail
6. Front left panel facing - 1 detail
7. Patch pocket - 2 details
8. Belt loop – 6 details (10 cm (4") length and 3 cm (1-3/16") width taking into account allowance)
9. Strengthener – 1 folded detail
Fusible interfacing: facing details and strengthener.
Instructions:
Reinforce the facings and strengthener with fusible interfacing (press thermal strengthener on the left side with hot iron).
Sew back panels darts and press them to center.
Sew the central back seam together up to the cutting mark. Press it apart. Face and topstitch the slit on 1 mm width from the edge.
Press the upper edge of the pocket upwards, fold the edge inside on 0.5 mm (3/16") and topstitch on 1 cm (3/8") from the edge. Press pocket allowance inside, coincide it with corresponding lines on the panels and topstitch it on 1 mm (1/16").
Face the central edges of front panels, fold them right sides inside and sew the central seam from the fly front 3-4 cm (1-5/8")downwards.
Zipper. Press the one-piece right panel facing for zipper to wrong side on front central line, 1 cm (3/8") from the edge at left panel. Press strengthener along the center right side out, work open edges. Topstitch zipper under closure allowance from left side to edge so that teeth are closely to the bend. Lay strengthener with its bend to the center so that worked edge hides zipper band. Pin closure split coinciding front center lines. Topstitch free zipper band to closure right side facing; do not catch front panel fabric. Topstitch front right panel along closure on the marking, capturing facing and folding strengthener out. Stop stitching on 1.5-2 cm (6/8") before center seam. Then fold strengthener to its place and continue stitching up to seam.
Fold in center edge of right front panel and topstitch along the mark to left panel overlapping topstitch the slit mark. Topstitch left side of slit.
Sew front facings to back one along side edges. Pres allowances out. Face the hem.
Align facings with upper edge of skirt face-to-face and stitch along the upper edge. Stitch down short ends of facings, clip allowances in corners. Turn out, press. Edgestitch the upper edge of skirt.
Press hem over along hemline and topstitch it.
Work a button hole into the right front panel. Sew button to left front panel.