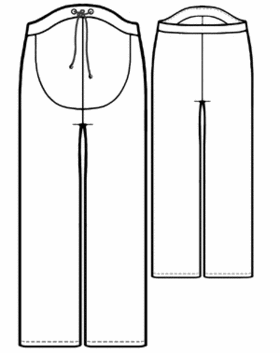 Difficulty: *
Recommended fabric: any heavyweight fabrics with elastic fibers, or knits and knits for front insert (must be very stretchy!)
You will need: fabric; drawcord (refer to your pattern for the length), 2 tips for drawcord ends.
Attention! Fabric consumption varies depending on the size of garment. First of all, print out paper patterns and lay them out at the width of fabric/ knit you plan to use, to see how much fabric you will need.
When sewing the garment, pay attention to notches- they must coincide.
Cutting:
Shell:
1. Front Part – 2 pieces
2. Back Part – 2 pieces
3. Back Facing – 2 pieces
From knits:
1. Front Insert – 2 pieces
2. Front Facing – 2 pieces
Fusible Interfacing: Back Facing.
Instructions:
1. Reinforce Back Facing and area of buttonholes for drawcord at center front of Front Facing.
2. Sew each Front Insert to Front Part of pants. Serge allowances.
3. Sew and serge side seams of pants. Press allowances towards Back.
4. Serge bottom and crotch raw edges of pants. Sew and serge inseams. Press allowances of inseams towards Back Part. Sew crotch seam, make another seam very close to crotch seam, up to the Insert (to reinforce the seam).
5. Mark placement of buttonholes at the Front Facing as per pattern. Work buttonholes into the Front Facing. (You can install eyelets instead).
6. Sew side seams of Front Facings and Back Facings, creating a 2 rings – outer and inner Facing, press allowances open. Stitch outer Facing to the waist edge of pants (you would have to ease in the Front Insert). Press allowances towards Facings.
7. Serge bottom edge of inner Facing. Place inner Facing onto outer Facing (sewn to pants) face-to-face and stitch together at the top edge. Under-stitch the seam at the inner Facing. Stitch in the ditch of waist seam (joining outer Facing with pants) to attach bottom (serged) edge of inner Facing.
8. Press bottom hem allowances of pants to the wrong side; topstitch.
9. Insert and pull the drawcord through the buttonholes; put on cord tips, draw knots at the ends of cord.