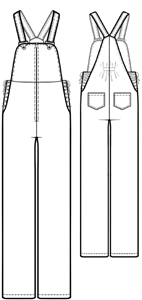 Difficulty: **
Recommended fabrics: heavyweight cotton fabric, jean fabric with elastic fibers.
You will need: shell fabric; lining fabric; fusible interfacing; separating zipper; elastic cord; 2 buttons; 2 overall buckle closures; elastic of 3 cm (1-3/16") width.
Attention! Fabric consumption varies depending on the size of garment. First of all, print out paper patterns and lay them out at the width of fabric/ knit you plan to use, to see how much fabric you will need. 
When sewing the garment, pay attention to notches- they must coincide.
Cutting
Shell:
1. Back– 2 pieces
2. Front – 2 pieces
3. Front Bib – 2 pieces
4. Back Patch Pocket - 2 pieces
5. Shoulder Strap – 2 pieces
6. Insert – 2 pieces
Lining:
7. Bib Lining – 2 pieces
8. Top Back Lining – 1 piece
9. Closure Facing – 2 pieces
Fusible Interfacing: Closure Facings.
Instructions:
1. Reinforce Closure Facings with fusible interfacing.
2. Serge raw edges of Back Patch Pockets. Turn under allowance at top of Back Pocket, press and topstitch. Turn under and press side and bottom allowances of Back Pocket. Mark Back Pocket placement at each Back part. Apply Back Pocket to Back, topstitch.
3. Serge top edge of each Insert. Turn under allowance at top edge of Insert, topstitch.
4. Serge inseam edges and side edges of Front and Back parts. Sew inseams and side seams. Press seams open.
5. Cut cord into pieces about 4 cm (1-1/2") long. Fold each piece in half and staystitch to Front and Back of pants according to pattern notches.
6. Sew Insert to Front and Back of pants (do not turn under or stitch at top allowance of Front part). Serge the seam.
7. Sew and serge crotch seam, starting from the notch for zipper closure. Make a second stitching along the crotch seam to reinforce it.
8. Sew Bib to Front.
9. Serge bottom edge of each Bib Lining. Serge outer and bottom edges of each Closure Facing. Sew Closure Facing to the bottom edge of Bib Lining, so that the pieces line at center front.
10. Fold pants in half at center front face-to-face, line up edges, cut off at top if uneven. Stitch Bib Lining to Bib/Front at top and side edges, lining up pieces face-to-face. Separate zipper and sew each half of zipper to the center front edge of Front (with zipper teeth directed towards armhole). Turn under allowances at center front, press.
11. Turn Bib Lining and Closure Facing back to the wrong side, and line up with Front, pin and stitch together at center front edge. Turn front edges out to the face side, press. Topstitch front edges along zipper at 0.5 cm.
12. Fold each Shoulder Strap in half lengthwise and stitch at two long sides. Turn out, press. Topstitch 0.5 cm from the edges.
13. Serge bottom edge of Back Part Lining. Place Back Part Lining and Back face-to-face and stitch at top and side edges, inserting Shoulder Straps with their slanted short edges. Clip allowances in corners, turn out, press.
14. Edgestitch the Front Bib and top edge of Back.
15. Measure and cut elastic. Place and pin ends of elastic between Back and Back Lining at waistline. Bartack ends of elastic. Topstitch elastic through Back and Back Lining, stretching it. Bartack elastic at the crotch seam at waistline.
16. Serge bottom edges of pants. Press under hem allowances of pants, topstitch. Mark buttons placement at Front Bib. Sew buttons for overall buckles at corners of Front Bib. Pull Shoulder Straps through the buckles, try on the overalls. Stitch down Straps' ends.