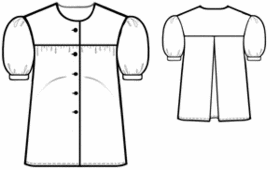 Difficulty: *
Recommended fabric: rayon, silk, lightweight cotton fabrics.
You will need: fabric; 5 buttons, fusible interfacing.
Attention! Fabric consumption varies depending on the size of garment. First of all, print out paper patterns and lay them out at the width of fabric/ knit you plan to use, to see how much fabric you will need.
When sewing the garment, pay attention to notches- they must coincide.
Cutting:
Shell fabric:
1. Front - 2 pieces
2. Back - 1 piece
3. Front Yoke - 2 pieces
4. Back Yoke - 1 piece
5. Sleeve – 2 pieces
6. Cuff – 2 pieces
7. Front Facing – 2 pieces
8. Back Neckline Facing – 1 piece
Fusible interfacing: Front Facing; Back Neck Facing; Cuff.
Instructions:
1. Reinforce Cuffs, Front Facing and Back Neck Facing pieces with fusible interfacing.
2. Machine-baste at top allowance of Front 0.5 cm (3/16")from raw edge. Pull basting threads to make gathers so that top edge of Front matches Front Yoke edge in length.
3. Form two pleats at the Back, press. Edgestitch folds (both inner and outer) of pleats. Staystitch pleats at top allowance 0.5 cm (3/16") from raw edge.
4. Sew Front Yoke to Front; sew Back Yoke to Back. Serge allowances, press towards Yokes.
5. Sew and serge shoulder seams of Front Facings and Back Neck Facing. Serge outer edge (not center front edge) of Front Facings/Back Neck Facing.
6. Place Front Facings/Back Neck Facing onto blouse face-to-face, aligning raw edges at center fronts. Stitch Front Facings to garment at center front edges (you should stitch at the garment, not Front Facings). Cut off extra allowances in bottom corners. Under-stitch center front edges. Turn Front Facings out, press front edges of garment.
7. Sew and serge side and shoulder seams. Press allowances towards Back.
8. Stitch Back Neckline Facing/Front Facings to the neckline of blouse. Clip neckline allowances. Understitch neckline seam. Turn Facings out to the wrong side; press neckline. Make bartacks or hand-sew Front Facings to shoulder seams.
9. Sew and serge under-sleeve seams. Machine-baste at allowance of Sleeve head between the notches. Pull basting threads to make gathers so Sleeve matches armhole in length. Machine-baste at allowance of Sleeve bottom. Pull basting threads to make gathers so Sleeve bottom matches Cuff in length. Pin and sew Sleeves into armholes. Serge armhole allowances.
10. Fold each Cuff in half lengthwise, wrong sides inside, and press. Open the Cuff, fold in half across and stitch together at raw edges, to form a "ring". Sew raw edge of outer half of Cuff to the Sleeve bottom edge. If you wish you Cuffs sitting more tight at your arms, stitch elastic to inside Cuff as marked in pattern. Turn under raw edge of inner half of Cuff, press. Stitch in the ditch of Cuff/bottom Sleeve seam to attach inner half of Cuff.
11. Serge bottom edge of blouse. Turn under hem allowance, topstitch.
12. Mark placement of buttonholes at the right Front; sew buttons to the left Front accordingly.