Home / Women / Dresses / #5160 Special Occasion Slip Dress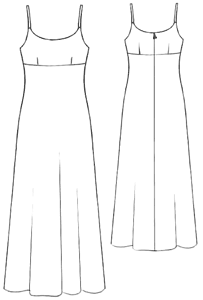 Difficulty: **
You will need: Lightweight, well-draping fabric for dress, lining fabric, 1 zipper.
Attention! Fabric consumption varies depending on the size of garment. First of all, print out paper patterns and lay them out at the width of fabric/ knit you plan to use, to see how much fabric you will need.
When sewing the garment, pay attention to notches- they must coincide.
Cutting:
Fabric for Dress:
1. Top Back - 2 pieces
2. Top Front – 1 piece with fold
3. Front Panel – 1 piece with fold
4. Back Panel – 2 pieces
5. Shoulder Strip– 2 pieces
Note: Front Panel and Back Panel pieces must be cut at bias.
Lining Fabric:
6. Top Back - 2 pieces
7. Top Front – 1 piece with fold
8. Front Panel – 1 piece with fold
9. Back Panel – 2 pieces
Instructions:
1.Sew darts, spread allowances of darts evenly to both sides and press them open.
2. Sew side seams, sew top of the dress to bottom.
3. Sew center back seam from bottom to notch marking zipper. Sew zipper in.
4. Fold shoulder strips in half lengthwise, face side inside, sew at a long side, turn out and press. Baste shoulder strips to corners of Top Fronts.
5. Sew darts at lining pieces. Sew lining pieces together.
6. Place the dress and lining dress face-to-face. Turn under seam allowances of lining at center back and pin them to neckline. Sew along armholes and neckline edges, picking the shoulder strips. Turn lining to the inside; hand-sew lining to zipper tape. Hand-sew lining to seam allowances of waist (seam attaching top to bottom).
7. Try the dress on, adjust the length of shoulder strips. Hand-sew loose ends of strips under the top corners of Top Back.
8. Let the dress hang for one day, then even out hem if necessary.
9. Press hem allowance to the inside and hand-sew with hemming stitches. Hem lining 1.5 cm (6/8") shorter than dress itself.