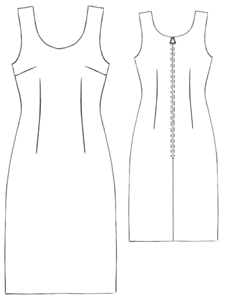 Difficulty: *
You will need: natural or mixed silk; lining; fusing; zipper.
Attention! Fabric consumption varies depending on the size of garment. First of all, print out paper patterns and lay them out at the width of fabric/ knit you plan to use, to see how much fabric you will need.
When sewing the garment, pay attention to notches- they must coincide.
Cutting:
Fabric:
1. Back part - 2 details
2. Front part - 1 folded detail
Lining:
1. Back part - 2 details
2. Front part - 1 folded detail
Fusing: apply stripes of fusible interfacing 2 cm (3/4") wide to wrong side of lining neckline and back/front armholes (copy shape of armhole/neckline and add 3/4").
Instructions:
1. Sew back middle seam from closure mark downwards. Serge seam allowances and press them apart; press closure slit edges.
2. Sew front/back darts. Press waist darts towards the center; press bust darts downwards.
3. Sew the zipper in with its teeth hidden.
4. Assemble pieces of lining (see pp.1-2).
5. Line up shell and lining face-to-face, and sew together along neckline and armholes. Clip curved allowances of neckline and armholes. Turn the dress right side out (you should have "shoulder tunnel" at each shoulder). Press neckline and armholes. By now, you should have two lined units of dress – lined Front and lined Back.
6. Line up Front and Back of lining face-to-face, Front and Back of shell face-to-face (matching the point underneath armhole where shell meets lining), baste (lining Front to lining Back, shell Front to shell Back) and stitch each side seam at one go. Press allowances open.
7. Sew shoulder seams, lining up each two shoulder ends face-to-face. Serge seam allowances and press them apart. (Another option is to turn inside shoulder allowances of Back and press; insert shoulder allowances of Front into the tunnel, baste together and stitch shoulder seam through all layers to join front and back).
8. Edgestitch the dress along neckline and armholes. Hand-sew turned in edges of lining to the zipper tape.
9. Serge hems of shell and lining separately. Press the hem to wrong side and topstitch. Turn under lining hem so that it's 2 cm (3/4") shorter than shell, topstitch.