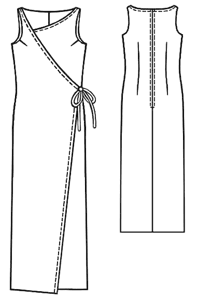 Difficulty: *
Fabric: soft fabrics suitable for dress.
You will need: batiste with crepe effect; zipper (about 60 cm (24")).
Attention! Fabric consumption varies depending on the size of garment. First of all, print out paper patterns and lay them out at the width of fabric/ knit you plan to use, to see how much fabric you will need.
When sewing the garment, pay attention to notches- they must coincide.
Cutting :
Fabric:
1. Front part - 1 detail
2. Flying front part - 1 detail
3. Back part - 2 details
4. Armhole piping - 2 details
5. Cord - 2 details
Instructions:
Sew darts. Press bust dart depths downward, waist dart depths toward back part middle line.
Sew back part middle seam below zipper closure notch.
Press the allowance of diagonal part of side right edge into wrong side, then topstitch.
Sew left shoulder seam. Cut seam allowances close to the stitch, overcast them together and press towards.
Press allowances of front neckline edge and back details into wrong side, fold tem under and topstitch on 0.75 cm (1/4") distance.
Press allowances for zipper closure slit into wrong side. Sew the zipper with its teeth hidden, turning down zipper braids' upper edges.
Put flying front part wrong side on the front part right side, coinciding front middle lines and front neckline edge with flying front part wrong side (with corresponding marks). Sew right armholes' edges and side right edges to diagonal part.
Sew right shoulder seam, press seam allowances forwards. Let flying front part neckline edge allowance projecting.
9. Fold each armhole piping along the center, then press it. Sew folded piping to armhole edge, at 0.75 cm (1/4") from piping fold. Cut seam allowance to 0.5 cm (3/16") width. Turn the piping into wrong side and topstitch the garment along the armhole.
Sew cords to 1 cm (3/8") width. Tack one end of the cord to side left edge of the front part, between crosswise marks.
Sew side seams. Press seam allowances apart and sew near armholes.
Serge lower edges of front part as well as back and flying front part ones. Press hem allowances under into wrong side and sew by hands.
Press the allowance along the diagonal edge of flying front part into wrong side. Serge the allowance of flying front part neckline edge, then press into wrong side and tack. Topstitch the flying front side along neckline edges and edge at 0.1 cm (1/16").
Sew the second cord under the corner of flying front part, between crosswise marks.