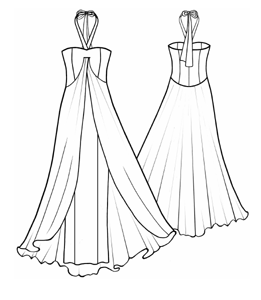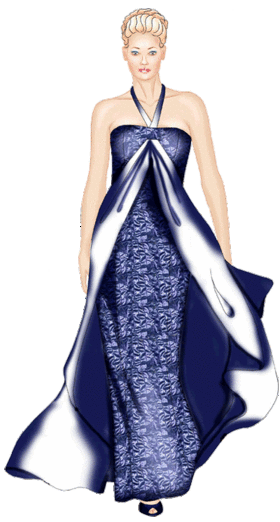 Difficulty: **
Recommended fabrics: lightweight fabrics for dress, silk shiffon for veil.
You will need: invisible zipper, tough corsage tape (like for pants' bottom) (1/4") wide, double-sided fusible tape (web).
Attention! Fabric consumption varies depending on the size of garment. First of all, print out paper patterns and lay them out at the width of fabric/ knit you plan to use, to see how much fabric you will need.
When sewing the garment, pay attention to notches- they must coincide.
Cutting:
Shell Fabric:
1. Center Back – 2 pieces
2. Side Back – 2 pieces
3. Center Front – 1 piece
4. Side Front – 2 pieces
Silk Shiffon:
1. Veil – 2 pieces
Lining:
1. Center Back – 2 pieces
2. Side Back – 2 pieces
3. Center Front – 1 piece
4. Side Front – 2 pieces
You can use shell fabric for lining parts. The lining parts should be cut shorter, the length of slits.
Instructions:
1. Sew center back seam down to the notch for slit. Sew princess seams of Back and Front at the parts of shell. Serge center back seam allowances separately, press them open, as well as allowances at sides of slit. Serge the rest seam allowances, press seams towards center front/ center back.
2. Sew side seams, leaving an opening in the left seam for zipper. Serge seam allowances separately and press them open. Sew zipper tape into the opening.
3. Cut corsage tape into 6 equal parts. Sew pieces of tape to allowances of right side seam, princess seams and center back seam, going from the top of each seam to the waist.
4. Sew center back seam, princess seams of Front and Back, side seams at the lining parts. Leave an opening for zipper. Serge seam allowances, press.
5. Line up shell and lining of dress. Turn under lining 0.5 cm (3/16") apart from the zipper closure, pin to the top edge of dress. Sew together top edges of lining and shell. Turn allowances along zipper closure to the wrong side. Turn the lining upward and understitch top edge seam (stitch lining to seam allowances). Turn the lining back down, bartack to zipper tape.
6. Serge bottoms of dress and lining. Turn under bottom hem allowances, topstitch.
7. Sew together pieces of Veil, serge allowances. Press under allowances all around the Veil, topstitch.
8. Mark and work buttonhole into the Center Front of dress. Pull Veil ends through the buttonhole. Use ends of Veil as ties at back neck.