Home / Women / Dresses / #5464 Dress with patch pocket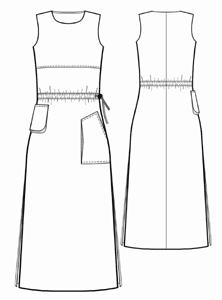 Difficulty: *
You will need: sheer fabric, decorative cord.
Attention! Fabric consumption varies depending on the size of garment. First of all, print out paper patterns and lay them out at the width of fabric/ knit you plan to use, to see how much fabric you will need.
When sewing the garment, pay attention to notches- they must coincide.
Cutting:
Fabric:
1. Pocket - 1 detail
2. Pocket side - 1 detail
3. Coulisse - 1 detail
4. Pocket side_2 - 1 detail
5. Pocket_2 - 1 detail
6. Front yoke - 1 detail
7. Front part - 1 detail
8. Back part - 2 details
Instructions:
1. Sew yoke to front part; serge joining seam ad topstitch at 0.5 cm (3/16") from joining seam.
2. Mark place of pockets at front/back parts. Serge outer edge of pocket side and press at 1 cm (3/8"). Sew pocket side to pocket. Serge joining seam. Serge lower/upper edges of pocket and pocket entrance edge. Press pocket entrance allowance to wrong side and topstitch. Press upper/lower edges of pocket at 1 cm (3/8"). Lay the pocket on marking. Topstitch pocket sides at 0.2 cm (1/16") from edges; stop stitching 2-2.5 cm (1") before end. Topstitch pocket upper side at 0.2 cm from edge fixing pocket edges with 2-2.5 cm length stitches. Topstitch pocket lower side at 0.2 cm from edge fixing pocket edges with 2-2.5 cm length stitches and stitching a slit in seam.
3. Sew pocket side_2 to pocket_2 and serge joining seam. Serge pocket upper edge and topstitch it at 0.5 cm from pocket edge.
4. Serge side edges of front/back parts. Sew garment right side seam and topstitch pocket_2 along marking.
5. Serge back middle edges, then sew them together and press apart. Press coulisses side edges at 1 cm and topstitch along short edges at 0.5 cm from edge. Mark coulisse place and topstitch along long sides at 0.2 cm from edge.
6. Sew garment left side seam up to notch and press the seam apart pressing slits. Topstitch along the slit at 0.5 cm from edge.
7. Fold the piping along the center and overstitch front/back neckline edge and armhole edges with the piping.
8. Sew garment shoulder seams. Serge seams and press back wards.
9. Serge the hem, press to wrong side and topstitch. Pull the cord into coulisse.