Home / Women / Dresses / #5208 Dress with decorative flower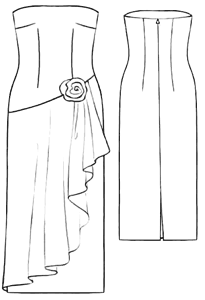 Difficulty: *
You will need: crepe-satin; lining; fusing; invisible zipper; corsage band of 8 mm (5/16") width.
Attention! Fabric consumption varies depending on the size of garment. First of all, print out paper patterns and lay them out at the width of fabric/ knit you plan to use, to see how much fabric you will need.
When sewing the garment, pay attention to notches- they must coincide.
CUutting:
Fabric:
1. Back part - 2 details
2. Front part - 1 detail
3. Front panel - 1 detail
4. Flounce - 1 detail
5. Piping - 1 detail
Lining:
1. Back part - 2 details
2. Front part - 1 detail
3. Front panel - 1 detail
4. Flounce - 1 detail
Fusing: apply fusing stripe of 7 cm (2-3/4") width to wrong side of upper edges of lining front/back details.
Instructions:
1. Sew front/back darts.
2. Sew back middle seam between marks.
3. Sew lining flounce to fabric flounce along short edge and long lower edges. Diagonally cut allowances close to seam, at corners. Turn the flounce right side out, then serge and press it. Tack upper edges together. Make pleats into right side in accordance to marking. Fold short front edge to wrong side along marking and tack it along upper edge. Lay the flounce's wrong side on right side of front panel, coinciding lines and marking. Tack the flounce on the skirt along upper edge and side edges.
4. Sew front part to front panel with flounce. Press seam allowance upwards.
5. Sew side seams.
6. Press closure allowance to right side. Sew the zipper in with its teeth hidden.
7. Topstitch corsage band on side seams allowance, beginning 1 cm (3/8") below upper edge and stopping at waistline.
8. Sew lining details in the same way as fabric ones. Coincide fabric and lining details and overstitch them along upper edge. Fold the lining out and topstitch on seam allowance. Press upper edge.
9. Press slit allowance to wrong side. Press hem allowance to wrong side and sew with blind stitches. Sew lining hem so that it is 2 cm (3/4") shorter than fabric one. Fold lining slit allowance to wrong side and sew to fabric slit allowance.
10. Fold the piping along the center right side out. Make two stitches along it with large stitches, rounding at short edges. Cut extra fabric at roundings. Gather the stripe on threads. The tighter is gathering, the wider the flower will be. Make a flower of gathered stripe and fix the lower edge. Cut allowances to minimum. Sew ready rose to the dress.