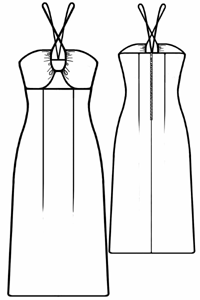 Difficulty: *
Recommended fabrics: lightweight fabrics of natural or blended fibers.
You will need: invisible zipper (about 25 cm (10"), fusible interfacing.
Attention! Fabric consumption varies depending on the size of garment. First of all, print out paper patterns and lay them out at the width of fabric/ knit you plan to use, to see how much fabric you will need.
When sewing the garment, pay attention to notches- they must coincide.
Cutting:
Shell:
1. Back – 2 pieces
2. Top Front – 4 pieces
3. Bottom Front – 1 piece
4. Back Facing – 2 pieces
5. Front Facing – 1 piece
Instructions:
1. Reinforce Back and Front Facings with fusible interfacing.
2. Mark darts at waist of Fronts and Backs. Sew darts. Press darts towards center front and center back.
3. Line up Top Fronts (Cups) face-to-face and sew together at center edge (the one to be with drawcord). Sew Top Fronts together at top and bottom edges as well, ending the seam 2 cm (3/8") off center edge seam (to leave an opening for drawcord tunnel). Clip allowances at the notch at bottom edge. Turn the pieces to the face side, press. Topstitch 1 cm (3/8") along center edge to create tunnel for drawcord.
4. Sew Top Front to Bottom Front from the side seam to the notched end. Line up Front Facing with Bottom Front (with Top Fronts in between) and stitch together along the edge. Turn out Top Fronts, and press down the Facing. Serge bottom edge of Front Facing.
5. Serge center back edges. Sew center back seam from the bottom up to the notch for zipper. Sew zipper into the opening.
6. Serge bottom edge of Back Facing.
7. Line up Back and Back Facing face-to-face, pin along top edge of back. Turn under Facing 5 mm (3/16") off the edges of zipper closure and pin to the top edge of dress. Turn allowances of dress along zipper to the face side and pin to the top edge, on top of facing. Stitch at the top edges of dress. Turn allowances along zipper to the wrong side. Turn the Facing upwards, and understitch the previous seam. Turn the Facing inside the garment, bartack it or hand-sew to the zipper tape. Press.
8. Turn the Back to the wrong side. Insert Front between Back and Back Facing, stitch side seams. Serge side seams of dress. Turn the dress out, press seams towards Back.
9. Serge bottom edge of dress, turn under and topstitch 1.5 cm (5/8") from the bottom edge.
10. Cut a stripe for shoulder straps. Fold the piece lengthwise in half, face side inside and stitch at 0,5 cm (3/16") off the fold. Turn out the shoulder strap, press. Pull the strap through the tunnels in Top Fronts and sew to Back as shown at the picture.