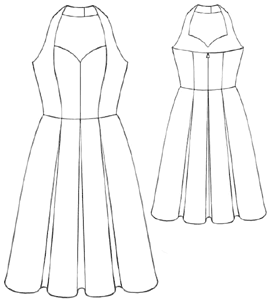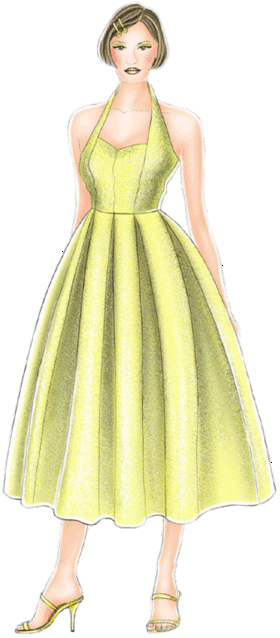 Difficulty: *
You will need: satin; organza; fusing; zipper; 3 buttons.
Cutting:
Fabric:
1. Middle back part -2 pieces
2. Side back part -2 pieces
3. Middle front part -2 pieces
4. Side front part, one-piece with strap -2 pieces
5. Front/strap facing -2 pieces
6. Back facing -2 pieces
7. Front skirt -1 folded pieces
8. Back skirt -2 pieces
9. Piping -1 piece
Organza:
1. Front skirt -1 folded piece
2. Back skirt -2 pieces
Fusing: front/strap facing, back facing.
Instructions:
1. Apply the fusing to wrong side of front/strap facing, back facing.
2. Stitch middle seam and princess seam. Serge allowances. Press middle seam to the left side, press princess seam towards the center.
3. Stitch back princess seams, middle seam up to closure slit. Serge seams, press princess seams towards the center back.
4. Stitch side seams, press them frontward.
5. Make the narrowest roll of piping. Cut the roll into 3 parts and make button loops of them. Tack loops to edge of left strap (loop bends must lay on the strap, loop ends lays on edge allowance). Loop size depends on button size.
6. Stitch middle edge into front facings, stitch back facings to them. Press seams apart. Lay the facing on the garment right sides together and stitch back upper edges between them and the zipper, as well as armhole edges, strap outer edges, front neckline. Cut allowances at 2-3 mm (1/8") from stitch, cut strap ends diagonally. Slash neckline corners perpendicular to seam stopping 1 cm (3/8")before the stitch. Fold facing into wrong side, serge it and press.
7. Stitch fabric/organza skirt sides together. Lay under-skirt on fabric skirt with sides together, coincide side seams and process it as a single detail. Stitch middle seam between hem and closure mark. Make pleats along skirt upper edge. Stitch the skirt to dress upper part. Fold the seam upwards and serge it.
8. Fold back facing upwards. Press closure allowances into wrong side. Stitch the zipper (teeth hidden). Fold the facing into wrong side and sew it to zipper braids.
9. Press hem allowance into wrong side. Fold it under and topstitch. Cut organza skirt so that it was 1.5-2 cm (6/8") shorter than dress hem.
10. Sew buttons on right strap's end according to buttonholes.