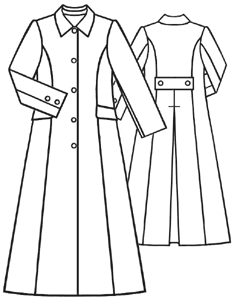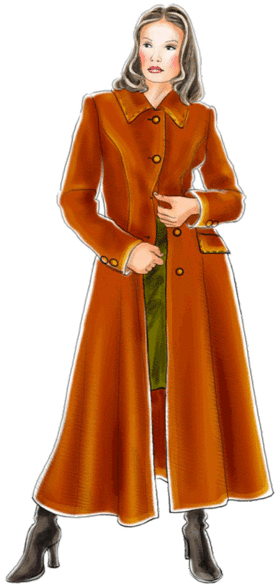 Difficulty: ***
Attention! Fabric consumption varies depending on the size of garment. First of all, print out paper patterns and lay them out at the width of fabric/ knit you plan to use, to see how much fabric you will need.
When sewing the garment, pay attention to notches- they must coincide.
You will need: for coat - wool or wool-blend fabric, velour, boucle; lining fabric, 7 large buttons, 4 small buttons, shoulder pads.
Cutting Pieces:
Coat Fabric:
1. Top Center Back - 1 piece with fold
2. Bottom Center Back - 1 piece with fold
3. Side Back - 2 pieces
4. Center Front – 2 pieces
5. Top Side Front – 2 pieces
6. Bottom Side Front – 2 pieces
7. Front Facing - 2 pieces
8. Collar - 2 pieces
9. Collar Stand - 2 pieces
10. Front Sleeve - 2 pieces
11. Back Sleeve - 2 pieces
12. Back Tab - 2 pieces
13. Pocket Flap - 4 pieces
14. Pocket Facing - 2 pieces
Lining:
15. Back - 1 piece with fold
16. Front - 2 pieces
17. Front Sleeve - 2 pieces
18. Back Sleeve - 2 pieces
19. Pocket Lining - 2 pieces
Fusible interfacing: using hot iron, fuse interfacing to the wrong side of Front Facings, one piece of Back Tab, 2 pieces of Flaps, one piece of Collar and Collar Stand, and hem allowances.
Instructions:
1. Matching the notches, make a pleat and baste it. Stitch the pleat along the top seam allowance, a bit higher than the marked seam line. Assemble the Back Unit: attach Top Center Back to Bottom Center Back. Attach Side Back pieces.
Topstitch back pleat according to pattern marking.
2. Assemble Back Tab: place Back Tab pieces face-to-face, pin and stitch together at three sides. Turn. Press. Tuck under raw edge. Topstitch the Back Tab at 0.5 cm (1/4") from edge. Sew buttons to Back, attaching the Back Tab to Back Unit at the same time. Note that the Tab should be placed so that it covers the seam of stitching Top Center Back to Bottom Center Back.
3. Assemble pockets with flaps.
Assemble Flaps: place two Flap pieces face-to-face and stitch around at three sides. Turn out, press and topstitch. Turn under one long edge of Pocket Facing and topstitch it onto Pocket Lining.
Match raw edges of Flap with raw edge at bottom of Top Side Front piece (the Flap must be directed upward). On top of Flap, place Pocket Lining (its end with Pocket Facing stitched on), pin and baste at raw edges. Stitch Flap and Lining to Top Side Front, turn down, press seam allowances up.
Baste pocket entrance (that is Top Side Front to Bottom Side Front) using cross stitches XXX.
Fold Pocket Lining at the fold line. Turn under raw edge and stitch it onto allowance of top edge of Bottom Side Front. Baste Pocket Lining at sides to raw edges of Bottom Side Front.
Sew vertical front seams of Center Front and Side Fronts.
4. Sew shoulder and side seams.
5. Sew together reinforced Collar and Collar Stand. Sew together non-reinforced Collar and Collar Stand. Press seams open.
6. Sew together lining pieces. Sew together shoulder seams of Front Facings and lining Back. Sew lining to inside edges of Front Facings.
Sew reinforced Collar Stand into coat neckline, press seam open.
Sew non- reinforced Collar Stand to lining and Front Facings.
7. Place upper Collar (along with Front Facings and lining) onto the coat face-to-face. Stitch along the front edge and outer collar edge. Turn out, press. Stitch allowance of upper Collar to neckline to prevent Collar from rolling. Baste Front and Front Facing together along the front edge.
8. Fuse interfacing to hem allowances of Sleeves bottom and sleeve vent.
Sew sleeve seams, leaving opening for vent at bottom.
Clip seam allowances of Back Sleeve pieces right above the vent notch. Press open sleeve seam allowances ABOVE the vent.
Hem the sleeves. Turn under and press vent allowances at Front sleeve pieces. Pin the sleeve vent. From the wrong side, stitch together raw edges of sleeve vent.
9. Baste the sleeve head between notches and pull to gather sleeve head to match the armhole. Spray sleeve head with water and press gathers with hot iron. Pin sleeve to armhole and sew from the sleeve side.
10. Attach shoulder pads.
11. Hem the coat.
12. Sew lining to lower sleeve edges (at wrists). Hem the lining.
13. Make buttonholes into right Front and sew buttons to left Front.