Home / Women / Blouses / #5001 One-Piece-Sleeve Blouse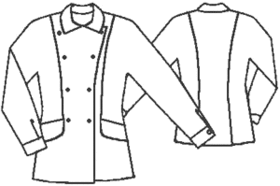 Difficulty: **
Attention! Fabric consumption varies depending on the size of garment. First of all, print out paper patterns and lay them out at the width of fabric/ knit you plan to use, to see how much fabric you will need.
When sewing the garment, pay attention to notches- they must coincide.
Cutting:
Back part center - 1 folded detail
Back part side - 2 details
Front part center - 2 details
Front part side - 2 details
Front facing - 2 details
Collar - 2 details
Cuffs - 2 details
Back neckline facing - 1 folded detail
Flap - 4 details
Saking - 4 details
Fusing:
Collar
Front facing
Cuffs
Instructions:
1. Sew relief seams of tha back part and sleeves back parts. Make special stitch along seams on the right side of the back part.
2. Sew front pockets entrances with the pocket bag. Befor doing it, make notches front part seam allowances in the corners diagonally. Sew two details of the flap. Tack the flap to lower edge of front part side. Stitch the pocket bag and the flap, then iron them under; press seam allowance upwards. Stitch the front part to the side part; then sew pocket pocket bags with the same seam. Make a decorative stitch along the right side of the front part. Tack pocket bag side edges to front parts.
3. Sew shoulder seams together. Sew sleeves upper seams.
4. Sew the inner collar in the front and back necklines. Sew front facings shoulder seams and back neckline facings. Sew the outer collar into font band and facing neckline.
5. Fold front facings and front parts right wides together, then pin outer and inner collars together. Sew the blouse along front facings and collar. Press apart stitching seams of inner collar and back neckline facing allowances, then sew them from inside.
6. Sew side seams and sleeves lower seams.
7. Make pleats at sleeves hems. Sew cuffs to sleeve hems. Turn the cuffs into right side on half-wide, then sew ends. Turn the cuffs into right side, fold open edges down, then sew them on the stitching seams. Topstitch the cuffs along the edge.
8. Sew the shoulder pads.
9. Work out the blouse hem.
10. Make buttonholes into the right front part and into cuffs.