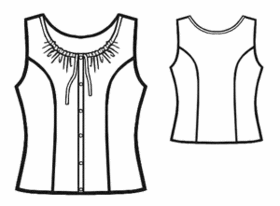 Difficulty: **
You will need: crepe, elastic braid, 5 buttons.
Attention! Fabric consumption varies depending on the size of garment. First of all, print out paper patterns and lay them out at the width of fabric/ knit you plan to use, to see how much fabric you will need.
When sewing the garment, pay attention to notches- they must coincide.
Cutting :
Fabric:
1. Center back part - 1 detail
2. Side back part - 2 details
3. Center front part - 2 details
4. Side front part - 2 details
5. Edge placket - 2 details
6. Neckline edging - 1 detail
7. Armhole edging - 2 pieces (3 cm (1-3/16") wide and about 50 cm (20") long -refer to your pattern for armhole length)
8. Tie - 2 details (2.5 cm (1") wide and 25 cm (10") long)
Instructions:
1. Sew front princess seam and back princess seam. Press seam allowances towards the center.
2. Sew shoulder seams, press allowances apart.
3. Overstitch armholes with edging. Sew edging ends together. Turn the edging to garment wrong side. Turn edging allowance in and topstitch along edge.
4. Overstitch neckline edge with edging, right sides together. Turn edging to garment wrong side. Turn edging allowance in and topstitch along edge. Cut elastic brain into two pieces and pull into neckline coulisse. Fix braid ends. Stitch ties neatly, to 0.5 cm (3/16"), and turn right side out.
5. Process placket upper corner, folding it along center wrong side out and overstitching along upper edge. Turn the placket right side out, press long edge allowances into. Insert tie end and front facing into placket and tack. Topstitch the placket at 0.2 cm (1/16"). Sew blouse side seams, press seam allowance apart.
6. Fold hem allowance under and topstitch at 0.7 cm (1/4").
7. Make 5 buttonholes into right placket and sew buttons on left one.