Home / Men / Vests / #6112 Vest with hood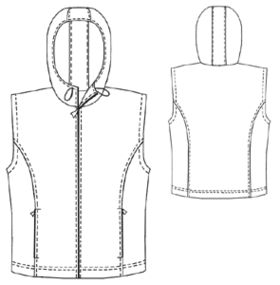 Difficulty: **
You will need: whipcord; lining; fusing; 1 separable zipper (depending on front length including stand-up collar's height); 2 zippers (depending on pocket's length); elastic braid; 4 holders for cord; 4 metallic blocks.
Attention! Fabric consumption varies depending on the size of garment. First of all, print out paper patterns and lay them out at the width of fabric/ knit you plan to use, to see how much fabric you will need.
When sewing the garment, pay attention to notches- they must coincide.
Cutting:
Fabric:
1. Front part - 2 pieces
2. Back part - 1 piece
3. Side front part - 2 pieces
4. Side back part - 2 pieces
5. Hood - 2 pieces
6. Hood center part - 1 piece
7. Large pocket bag - 2 pieces
8. Hood facing - 1 piece
Lining:
1. Front part - 2 pieces
2. Back part - 1 piece
3. Small pocket bag - 2 pieces
4. Hood - 2 pieces
5. Hood center part - 1 piece
Instructions:
1. Apply the fusing to wrong side of pocket place on front part. Stitch side part to front part, excepting pocket entrance. Slash allowances into corners. Press the seam towards front part, press pocket entrance apart. Stitch the zipper with small pocket bag to front part. Stitch zipper's another part with large pocket bag to side front part. Stitch pocket bags together. Make fixings along pocket entrance and topstitch. pocket bags' edges must entrance the seam joining the zipper and reach garment hem.
2. Stitch side parts to back part. Topstitch joining seams. Stitch shoulder edges together. Topstitch shoulder seam at back part. Stitch side seams. Stitch hood parts together.
3. Topstitch the hood along hood center part. Stitch the hood into neckline. Set blocks into the hood.
4. Stitch waistcoat lining. Stitch hood lining together and stitch it to hood facing. Stitch hood lining into lining neckline.
5. Lay a part of zipper on edging right sides together (teeth are from edging). Overstitch edging and hood edges with lining inserting the zipper. Turn the garment right side out.
6. Overstitch armholes with lining, then topstitch.
7. Make loops for the cord into hem allowance. Press hem allowance under (first at 1 cm (3/8"), then at 3.5 cm (1-3/8")). Topstitch garment hem.
8. Topstitch edgings and hood.
9. Topstitch ready waistcoat.
10. Pull the elastic braid into the hood and garment hem.