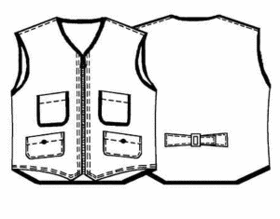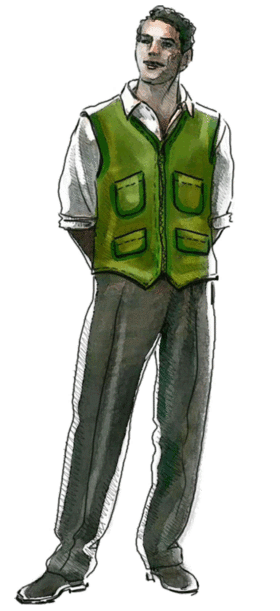 Difficulty: **
RECOMMENDED FABRICS: plaid wool or wool blends.
You will need: Wool plaid fabric; black lining fabric; about 4.0 m (4.36yd) of black bias tape with finished edges, 1.5 cm (5/8'') wide; black separating zipper (refer to your pattern for zipper length); 2 snaps 1.6 cm in diameter; metal buckle 3.5 cm (1-3/8'') wide.
CUTTING:
Shell (plaid wool):
Back - 1 piece
Front - 2 pieces
Breast Pocket - 2 pieces
Lower Pocket – 2 pieces
Black lining:
Back Tie - 4 pieces
Note: If you sew the vest out of plaid fabric, pin paper parts onto fabric, matching the plaids at side seams.
INSTRUCTIONS:
1. Trim bottom and sides of each Pocket with bias tape. Trim bottom hem of Back with bias tape. Apply one edge of bias onto garment, matching raw edges, and stitch at 1/4 width of bias. Turn the bias around the edge (width of bias finished must be around 1 cm, or ¼ width of bias). Turn under loose raw edge of bias at the wrong side of garment (1/4 width of bias); baste. Stitch in the ditch of previous seam to finish the edge.
2. Serge top edge of Pockets. Turn under and press allowance at top. Topstitch Pocket 2.0 cm (3/4'') off the top edge.
3. Mark Pockets' placement at Fronts. Apply Pockets onto Front, baste and topstitch right into the seam of attaching bias tape.
4. Line up two Back Tie pieces face-to-face, stitch around, except for one short end. Clip allowances and turn out the Back Tie. Press. Repeat with other Tie. Pin Back Tie pieces onto Back as per pattern markings, with raw edges facing center back, and topstitch. Turn Tie pieces out, towards each other, and topstitch across the Tie to cover raw edge.
5. Sew shoulder seams; press allowances open. Edgestitch at both sides of the seam.
6. Serge allowances of Front: front edge and bottom edges. Turn under allowances; press.
7. Sew zipper to Front. Apply zipper tape at the wrong side of front edge, matching top end of zipper with a corner of Fronts, and stitch zipper to allowance. Topstitch front edges with double-topstitching (at the edge and 0.5 cm (3/16'') apart).
8. Sew side seams. Finish seam allowances with bias tape (similar to shoulder seams).
9. Mark snaps placement. Install snaps.
10. Pull right Back Tie through the buckle. Hand-sew the buckle to Tie.