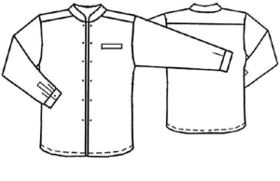 Difficulty: **
You will need: fabric suitable for shirt; fusing; 14 buttons.
Attention! Fabric consumption varies depending on the size of garment. First of all, print out paper patterns and lay them out at the width of fabric/ knit you plan to use, to see how much fabric you will need.
When sewing the garment, pay attention to notches- they must coincide.
Cutting:
Fabric:
1. Stand-up collar – 2 folded pieces
2. Back yoke – 2 folded pieces
3. Back part – 1 folded piece
4. Pocket bag – 2 pieces
5. Off-set welt – 1 piece
6. Front part one piece with front facing – 2 pieces
7. Placket – 1 piece
8. Sleeve – 2 pieces
9. Sleeve slit facing – 2 pieces
10. Cuff – 2 pieces
Fusing: pocket frame, cuffs, placket, one-piece front facings, collar.
Instructions:
1. Apply the fusing to wrong side of pocket frame, cuffs, placket, one-piece front facings, collar.
2. Make a slit pocket with welt into front part. Apply the stripe of fusing on the wrong side of slit place. Overstitch the welt along short edges, turn it into right side and press. Stitch the welt to front part along marked lines, right sides together. Pin the pocket bag opposite to welt along marked slit line; stitch the pocket bag at the same distance from slit line as the welt; the seam must be 0.5 cm (3/16") shorter than the seam joining the welt. Cut front part between stitches diagonally to stitch ends; do not cut pocket details. Turn pocket bags into wrong side, press the welt towards pocket entrance. Stitch another pocket bag to welt allowance (wrong side). Turn small triangles at hall ends into wrong side and topstitch them on pocket bags accurately between upper stitch's and lower stitch's ands. Adjust pocket bags by cutting them, then stitch. Tack welt short edges and topstitch them by edges.
3. Stitch yoke detail to front/back parts' upper edges, then topstitch along the edge.
4. Stitch side edges together. Fold hem allowance into wrong side and topstitch it.
5. Overstitch inner collar and outer collar along outer edges and topstitch along edge. Tack the collar into neckline. Fold one-piece front facings into right side. Stitch another yoke to front facings. Overstitch the neckline with front facings and yoke. Stitch inner yoke folding edges under, stitch it along the seam joining outer yoke. Tack yoke open edges along armholes. Sew front facings to hem allowance.
6. Fold closure placket along the center and overstitch it. Turn it right side out and press it. Topstitch the placket along edge contour. Lay the placket under right front part and tack them together coinciding middle lines. Topstitch edgings at 0.5 cm stitching the placket to right front part.
7. Process slits into right and left sleeves in the same way "in mirror". Make a slit. Fold the nearest to seam line edge under and then again, as narrow as possible, then topstitch. Fold the placket along the center wrong side out. Process the placket along upper short side, then do the same at 3-cm segments of lengthwise edges. Slash seam allowance at stitch ends. Turn the placket right side out and press it. Stitch placket outer edge along the slit folding it right side on sleeve right side. Slash sleeve seam allowance at stitch end. Press the placket towards the slit. Fold placket inner art's edge under and stitch it to joining seam. Topstitch the placket along edge and joining sea; topstitch placket upper end on the sleeve along the edge. Topstitch the placket top crosswise.
8. Stitch sleeve seams. Make pleats into sleeve hem. Fold the cuff along the center, overstitch short edges and along 1.5 cm (5/8") of lengthwise edges for closure allowance. You will have 1 cm (3/8") rest than you'll stitch later to sleeve slit allowance. Stitch cuffs to sleeve hems, fold inner edges under and stitch them along joining seam. Topstitch cuffs. Make buttonholes into cuffs and sew buttons.
9. Stitch sleeves into armholes. Topstitch the garment along seams joining sleeves.
10. Make buttonholes into left edge, sew buttons corresponding them on placket. Sew other 6 buttons to right edge catching the placket.