Home / Men / Pants / #6111 Pants with cut side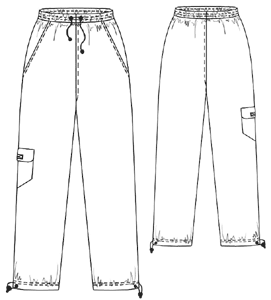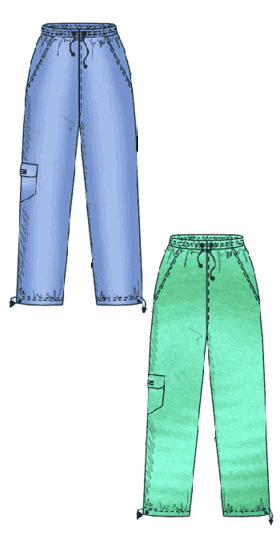 Difficulty: *
You will need: whipcord; lining; fusing; elastic braid of 4.5 cm (1-6/8") width for waistband; elastic cord for pants hem; 4 metal clocks; cord for waistband; Velcro.
Attention! Fabric consumption varies depending on the size of garment. First of all, print out paper patterns and lay them out at the width of fabric/ knit you plan to use, to see how much fabric you will need.
When sewing the garment, pay attention to notches- they must coincide.
Cutting:
Fabric:
1. Front part - 2 pieces
2. Back part - 2 pieces
3. Waistband - 1 piece
4. Pocket bag - 2 pieces
5. Side part - 2 pieces
6. Side flap - 2 pieces
7. Side pocket - 1 piece
Lining:
1. Front part - 2 pieces
2. Back part - 2 pieces
Instructions:
1. Reinforce pocket entrance at front part. Stitch pocket bag to front part and turn into wrong side. Topstitch pocket entrance. Lay front part on side one along coincidence line and stitch pocket bags.
2. Stitch side seams, then topstitch. Stitch middle seams. Topstitch along left part.
3. Reinforce the pocket. Overstitch the pocket, turn right side out and topstitch. Press pocket's upper allowance under and topstitch it. Press side pocket's allowances under. Topstitch Velcro. Topstitch the pocket with flap on right side according to marks.
4. Mark lines of topstitching the elastic braid at waistband. Pierce 2 holes (at 8 cm (3-1/8") distance) for cord between topstitchings at front part's middle seam level. Stitch separately waistband and elastic braid in ring. Insert elastic braid into waistband, stretch the braid to waistband's length and make 2 decorative stitches. Stitch the waistband to pants catching elastic braid.
5. Stitch lining's side seams and middle seam. Stitch the lining to garment' 'waistband.
6. Set blocks into hems. Press hems first at 1 cm (3/8"), then 3.5 cm (1-3/8") under.
7. Stitch fabric/lining inside leg seams.
8. Topstitch hems.
9. Press ready pants.
10. Pull cords into waistband and hems.