Home / Girls / Suits / #7106 Capri Pants (Two-Fabrics Set)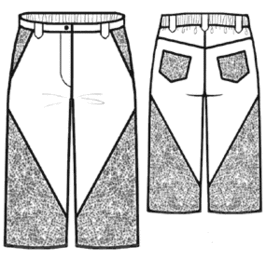 Difficulty: **
Recommended fabrics: fabrics of natural or mixed (natural/ synthetic) fibers; shell fabric and trim fabric should be of the same fiber content.
You will also need: fusible interfacing, 1 zipper, 1 button, elastic 3 cm (1-3/16") wide.
Attention! Fabric consumption varies depending on the size of garment. First of all, print out paper patterns and lay them out at the width of fabric/ knit you plan to use, to see how much fabric you will need.
When sewing the garment, pay attention to notches- they must coincide.
Cutting:
Shell:
Waistband– 1 piece
Back Yoke - 2 pieces
Upper Back – 2 pieces
Upper Front – 2 pieces
Side Pocket Bag – 2 pieces
Belt Loop – 12 pieces
Zipper Fly – 1 piece
Trim fabric:
Lower Back – 2 pieces
Lower Front– 2 pieces
Patch Pocket – 2 pieces
Side Pocket Part – 2 pieces
Fusible Interfacing: frontal area of Waistband, Zipper Fly, pocket entrance allowance of Side Pocket Part.
Instructions:
1. Reinforce with fusible interfacing frontal area of Waistband, Zipper Fly, pocket entrance allowance of Side Pocket Part.
2. Serge top edge of each Patch Pocket, turn under and topstitch. Serge lower and side edges of Patch Pocket, turn under according to pattern and press. Mark patch pockets' placement at Upper Back parts. Put each Patch Pocket onto Upper Back and topstitch.
3. Place Pocket Bag onto Upper Front face-to-face and stitch together at the curved edge of pocket entrance. Clip allowances, turn pocket bag to the wrong side, press and edgestitch pocket entrance.
4. Place Side Pocket Part underneath the Upper Front, matching the notches. Sew together and serge Pocket Bag and Side Pocket Part. Staystitch both pieces at top and side edges with 1 cm (3/8") wide stitching.
5. Sew each Back Yoke to Upper Back. Serge seam allowances, press towards Yoke. Topstitch at 0.5 cm (3/16").
6. Sew together Upper and Lower parts of Fronts and Backs, correspondingly. Press seams towards upper parts and topstitch.
7. Serge crotch seam allowances and pants' bottom edges. Sew and serge inseams. Press inseams towards Back. Sew side seams, press open and serge. Sew crotch seam (preferably, with a triple straight stitch) from top of Back to the notch for zipper start at Front. Make a second, parallel, stitching 0.2 cm from the crotch seam to reinforce it.
8. Press to the wrong side extended zipper closure facings. Sew zipper under the edge of zipper facing at left Front. Stitch another side of zipper to the zipper facing of the right Front. Fold Zipper Fly piece in half lengthwise and sew at one short edge. Turn out, press. Topstitch left zipper facing onto Zipper Fly. Topstitch right edge of closure, picking up the facing at the same time.
9. Fold each Belt Loop face side inside, sew around at three sides. Turn out, topstitch at 0.1-0.2 cm (1/16") and press.
10. Fold Waistband lengthwise in half, wrong side inside, and press. Serge one long edge of Waistband.
11. Sew Waistband to the top edge of pants. Cut elastic according to the size (refer to pattern). Mark Waistband for side seams placement. Place elastic onto waistband at the area being then attached to Back, with ends of waistband 1 cm (3/8") overlapping the marks of side seams. Staystitch ends of elastic at side seams marks on Waistband. You can also Staystitch the elastic to Waistband at center back.
Fold Waistband ends face-to-face and stitch down. Clip allowances in corners of Waistband ends. Turn Waistband to the face side at the ends. Topstitch the Waistband in the ditch, fastening lower, serged allowance at the same time. Press the Waistband. Topstitch pointed ends of Belt Loops into the ditch of Waistband. Turn under upper raw end of each Loop and stitch onto Waistband.
12. Turn under hem allowance, press and topstitch the hem.
13. Stitch buttonhole at the right side of Waistband; sew button the left side. Press the Capri pants.